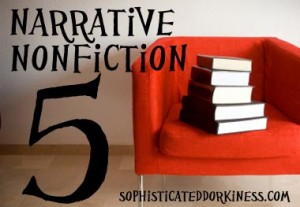 I'm not sure if Halloween ranks as my favorite holiday, but it's definitely up in the top few. And the whole nature of Halloween lends itself to lots of good and spooky nonfiction. In honor of this awesome holiday, I've got a Narrative Nonfiction 5 list that I hope you'll enjoy.
Stiff by Mary Roach
Stiff: The Curious Lives of Human Cadavers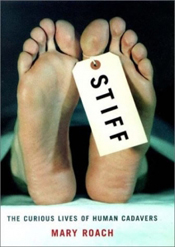 Stiff by Mary Roach is a really fun and sometimes gross book. In it, Roach explores what happens when a person decides to donate their body to science after the die. While many go on to be donors for medical school classes, others are used as crash test dummies, for decomposition studies, or other feats of science. If you have a bit of a stomach, this is a great book. And it's Halloween connection? Cadavers are sort of like zombies, right? (My Review)
Bonus: Mary Roach also wrote a book on ghosts, Spook: Science Tackles the Afterlife, that I think would be totally appropriate on this list.
Ghost Hunters by Deborah Blum
Ghost Hunters: William James and the Search for Scientific Proof of Life After Death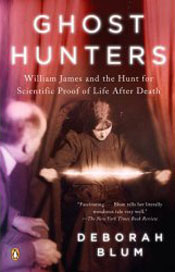 I haven't read Ghost Hunters by Deborah Blum, but I do know her well (she was a former professor), and have enjoyed all her other writing so far. In this book, Blum explores looks at a group of scientists and intellectuals who, around the turn of the century, tried to close the gap between religion and science at a time when these pursuits were heading in different directions.
I was hoping to get to read this book this month but ran out of time to get to it. Maybe next October, or sooner if I decide I just can't wait. Ghosts are a big part of Halloween, so there you go.
Bonus: Blum's most recent book The Poisoner's Handbook is also a great read that could fit into this theme. Here's my review.
Midnight in the Garden of Good and Evil by John Berendt
Midnight in the Garden of Good and Evil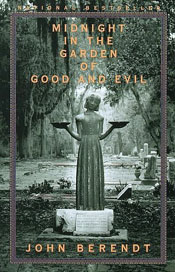 I think the best way to explain this book is just to quote directly from the back cover, which is so good I can't possibly top it:
Genteel society ladies who compare notes on their husbands' suicides. A hilariously foul-mouthed black drag queen. A voodoo priestess who works her roots in the graveyard at midnight. a morose inventor who owns a bottle of poison powerful enough to kill everyone in town. A prominent antiques dealer who hangs a Nazi flag from his window to disrupt the shooting of a movie. And a redneck gigolo whose conquests describe him as a "walking streak of sex."

These are some of the real residents of Savannah, Georgia, a city whose eccentric mores are unerringly observed — and who dirty linen is gleefully aired — in this utterly irresistible book. At once a true-crime murder story and a hugely entertaining and deliciously perverse travelogue, Midnight in the Garden of Good and Evil is as bracing and intoxicating as half-a-dozen mint juleps.
I'm about 170 pages in — at the murder! — and I can already tell you this book lives up to most of the hype from the back cover. The Halloween connection? Suicide! Murder! Voodoo! Scary stuff.
The Serpent and the Rainbow by Wade Davis
The Serpent and the Rainbow: A Harvard Scientist's Astonishing Journey into the Secret Societies of Haitian Voodoo, Zombis, and Magic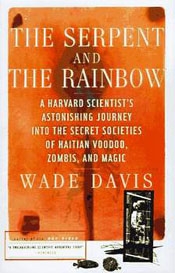 I found this book after doing a search for "nonfiction" and "zombies," and I think it looks pretty good. Davis was a Harvard ethnobotanist who went on a number of field trips to Haiti to research zombification and zombies in Haitian culture in the 1980s.
While there, Davis also connected with Haitian society to explore the relationship between cults, secret societies, and the government. The book is described as more of a personal narrative than strictly academic account, which makes it a lot more appealing to me. And it connects to Halloween because of the zombies — spooooky.
Spellbound by Karen Palmer
Spellbound: Inside West Africa's Witch Camps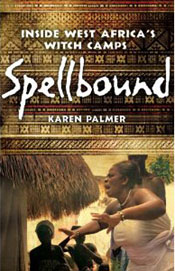 This is book I just recently came across on the New York Times Book Bench Blog, and I'm glad I did because I the list felt incomplete without a narrative nonfiction book on witches. In Spellbound, journalist Karen Palmer goes to a West Africa's witch camps, places where women accused of witchcraft are banished.
While Palmer initially believes the camps are places to send "troublesome" women, she begins to be taken in by stories she can't explain. The book goes on to explore this phenomenon and what happens to women sent to these camps. I think this book is a little more serious than the others on this list, since the way she describes the witch camps is truly awful, but it sounds fascinating.
There you have it – some narrative nonfiction to enjoy during this spooky fall season. Any other suggestions for narrative nonfiction on ghosts, ghouls, witches, zombies, or other phantoms of the season?