Last week I posted a Narrative Nonfiction 5 list of Spooky Stories, picking some nonfiction that reminded me of Halloween. The third book on the list, and the one that got the most responses in the comments, was Midnight in the Garden of Good and Evil by John Berendt, which I just finished reading this weekend.
The book is sort of a conglomeration of types of narrative nonfiction – part travelogue, part profile, and part true crime – but manages to pull off every part successfully, resulting in a book that's lush in scenery, broad in characters, and tinged with mystery and intrigue.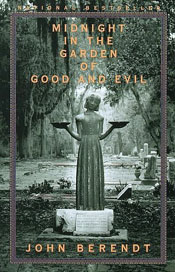 Part of the reason the book can pull so many strings together is that Berendt is a great writer. He's got the gift of pulling the perfect details to illustrate every character in just a few words, but so memorably each of them is still with me while I write. Take, for example, this description of millionaire antiques dealer Jim Williams:
Half an hour later we went out through the back of Mercer House to the carriage house, where a green Jaguar sports car was parked on an oriental carpet. Williams set his vodka tonic on the control panel and eased the car out into Wayne Street. In moments we were gliding through the quiet streets of Savannah, up and over the Talmadge Bridge and into the darkness of the South Carolina low country.
I actually stopped and read that paragraph out loud to my roommate because it's just so good – the oriental rug, the Jaguar, the vodka tonic in the car – every detail sets the scene and tells you what you need to know about Jim Williams.
Every other character is equally as well-thought out, which meant that even though there were a lot of them floating around the periphery of the main story, they were all memorable and never distracted from what was going on.
The biggest character is probably Savannah itself, a Southern belle of a city disconnected from the real world with a sense of gentility and the scent of booze. I think stories about places outside the norm are my favorites because of the way they seem both idiosyncratic but also lovable, places I would want to visit just to see if it's really that nutty.
I'm not going to say anything specific about the "true crime" part of the book, mostly because I think it has the most interest if you don't know anything about it going in. I'll just say that it's not gruesome or creepy or uncomfortable like a lot of true crime, and reads more like a cozy mystery set in Savannah than a book like In Cold Blood (at least for me).
The only reason this book wouldn't get a full five star rating and more like a 4.5 or 4.75 is because the book is really about a lot of shallow people, and although it's fabulously well-written and fun to read, I felt like it was missing that teeny bit of something that makes it relevant as more than just an awesome story. But that's sort of a picky personal detail – for all its frivolity, this book is a great example of narrative nonfiction that I'd recommend to almost anyone.
For this interested, I've been doing a week of reviews of books that remind me of Halloween. The two I featured before this were The Writing Class by Jincy Willett and Candyfreak by Steve Almond. Enjoy, and Happy Halloween!
Now that it's finally Halloween, what have been some of your favorite haunting reads? Read this book – what did you think?