Last weekend I went to the Twin Cities Book Festival with a few Minnesota, Wisconsin, Iowa, and South Dakota bloggers. We were a pretty wide-ranging group, and it was a lot of fun.
The day started out bright an early at 8:00 a.m. with a meeting for coffee close to the book festival. When I got there, I met Reagan from Miss Remmer's Reviews and Sheila from Book Journey. After a little bit, we were joined by Ash from English Major's Junk Food and Alea from Pop Culture Junkie. We chatted books for a bit, then headed out to the Book Festival.
Unlike the Wisconsin Book Festival, which is a bunch of different bookish events at a number of locations over a four-day period, the Twin Cities Book Festival is a one day event in one place. This was nice because we didn't have to travel much to get around, but the day was a little exhausting. Between being a little sick, plus my sprained ankle, it was a busy day.
Here are just a few of the highlights.
The first panel I went to was called "The Changing World of Book Publishing," which was a group talking about some of the ways books are changing and, as the moderator explained, exploring was we can "head into a well-read future together."
Sheila was on this panel, along with a number of Twin Cities-area book critics, authors, and book club organizers. Sheila wrote a good summary of the panel, but I have a couple more thoughts:
A local book club organizer suggested that books were pricing themselves out of the entertainment space. When a new hardcover costs $28, it's hard to choose to buy a book when you can go out to a cheap dinner or a movie for about that much.  He suggested that all books come out in hardcover and paperback at the same time, a suggestion I highly agree with.
One audience member asked what sources people used to find what books to read, and I was sort of astounded. I NEVER run out of suggestion for books to read because I am so connected to other bloggers for news and recommendations. But, it reminded me that as bloggers we need to do some outreach and also try to pass on book recommendations to people in our lives.
Another audience member asked about book trailers, and Reagan spoke up with the point that as a teacher, she often uses trailers to share books with her students. I hadn't thought of that use for book trailers before.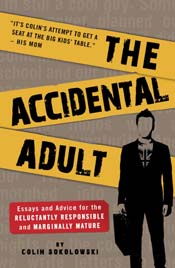 After the panel Ash and I wandered around the Festival for awhile. I got a couple copies of Creative Nonfiction, a literary journal of all narrative essays, and a copy of The Accidental Adult by Colin Sokolowski, strictly because of Sheila's recommendation.
We also met up with Joanne from Jo Jo Loves To Read and Liz from Consumed By Books and went to Davanni's for lunch. It was another fun time to just talk with people about books and blogging – I love meeting with bloggers and getting to be dorky about blogging platforms and comment policies and review techniques and not feel self-concious about it.
After lunch Ash and I went to see another panel, this one about Minnesota Comics. The highlight for me was seeing Bill Willingham, the author of the Fables series from DC comics. After, I got a couple of my Fables comics signed, and I got to be all gushy fan with him. So fun!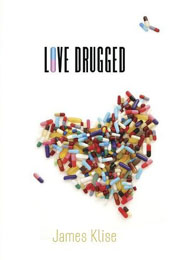 At this point I was pretty exhausted, so after poking around the festival a little more – and being convinced to buy Love Drugged from a really persuasive booth employee – Sheila, Reagan, Ash, and I headed back to their hotel for a little break before dinner.
But instead of taking a break, we decided to go to Borders to check out books. I was good and responsible and didn't buy anything except a chai tea, and spent some time reading Then We Came to the End by Joshua Ferris in the coffee shop. Sheila even snuck a photo of Reagan and I reading – I feel like a celebrity caught by the paparazzi!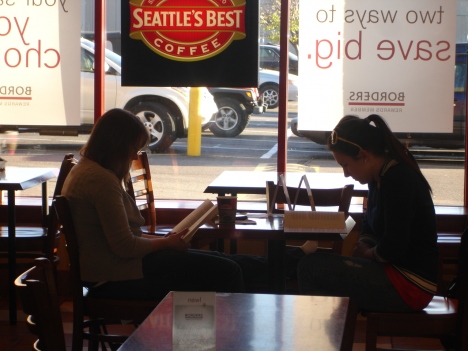 The day ended with some unexpectedly good Chinese food with Sheila, Ash, Ash's boyfriend Jason (who's name I could not originally remember…), and Reagan. Yum! (And a big thanks to Sheila for letting me snatch her pictures – I'm terrible at taking photos of my own).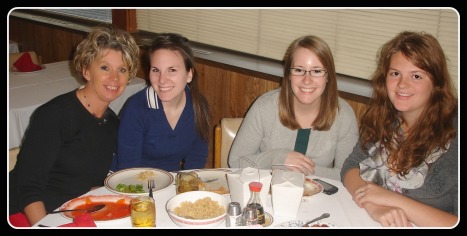 So there you have it – the Twin Cities Book Festival in less than 800 words. It was a great day, and I hope we can do another meet up next year. If you want more than this, Ash already did her recap of the event and so did Alea.