Welcome to the online discussion for The Jungle, hosted by BookClubSandwich: An online book club for foodies and wannabes. Andi (Estella's Revenge) and I are both glad you're here.
The discussion format is pretty simple – I've included my thoughts below in a sort of review – there are a bunch of discussion questions as well. The comments section is open for responses and discussion – responding to each other as much or more than responding to me – and there's a Mr. Linky to add your own reviews. The discussion will take place all week, and Andi will have a wrap-up of the discussion next Monday.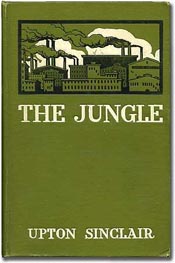 Here we go – a discussion of The Jungle by Upton Sinclair!
I have to admit, I'm not quite finished with The Jungle. I have about 50 pages left, and from how the book has gone so far, I'm not expecting any major game changing moments before I get to the end.
I'll start out by saying that this book really wasn't what I was expecting. In my experience, The Jungle gets billed as this muckraking journalistic novel that exposed the horrors of the meat packing industry and helped bring about much-needed food safety reforms. And while that's true, I ended up feeling like the "meat stuff" wasn't as much of the novel as I thought it would be. How did The Jungle compare to your expectations – what it was about, who the characters were, or what the message was?
I was also struck by the characters and how shallow I felt they were – like they were more types of people than people I could know something about. When I think back to Jurgis and Ona, I think of physical types, because it was well described, but not much else about them. It seemed very much like they were just there to advance the plot, not actually be emotional, connected, characters. What did you think of the characters? Were they deep and well-drawn or just archetypes used to make a political point?
Furthermore, what did you think of everything that happened, particularly to Jurgis, but to the other characters as well? Were there any experiences that surprised or shocked you?
Both of those things – expectations and characters – lead into my last observations. To me, the book seems very much like a fable or an allegory of some sort. Jurgis and Ona and the family are supposed to represent "the immigrant experience in Chicago," and so the reason Jurgis basically does everything – meat packing, fertilizer, jail, the political machine – is because Lewis wanted us to get a complete picture of what that experience could be like. I'm not sure how else to describe it, but I thought it was a curious thing. I liked the sort of fable aspect of the story, but don't know quite how to articulate it. How would you describe this book? Do you think Lewis was able to represent the immigrant experience, or was he writing too broadly?
I was reading some other critiques of the novel, and they focused a lot on the "aesthetic shortcomings." I think they probably mean the fact that the novel, as a whole, isn't written especially well – there's no dialogue, very little character development, and this meandering plot that doesn't seem to go anywhere. But the novel is well-known and often taught in high school and college classrooms, despite its aesthetic faults. Do you think the book really does have "aesthetic shortcomings"? Does the social impact of the novel make up for those shortcomings?
That's about all I have for the moment. I'm looking forward to hearing what you think in the comments and in your reviews during the week. Be sure to comment, then either subscribe to comments via e-mail or stop back and see what we're chatting about.