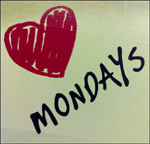 Monday Tally is a weekly link round-up of some of my favorite posts discovered over the week. If you have suggestions for Monday Tally, please e-mail sophisticated [dot] dorkiness [at] gmail [dot] com. Enjoy!
Post-Halloween Giggles
If looking at these pictures of a little kid being Robocop doesn't put a smile on your face then I don't think you have a heart. Also, the parts for the costume are awesome: an old bike helmet, orange juice container lids, a laundry detergent bottle, and milk jugs, to get started.
I'm too movie illiterate to know exactly what this is spoofing, but Mystery Bear: Dawn of the Ted gave me a good laugh last week.
Changing Media and the Law
This is a good reminder from 10,000 Words – Common copyright mistakes that can still get you sued
The Weather Channel is going to have less weather coverage, turning instead to "weather-themed reality programming." Ummmm? (via Monkey See)
The New York Review of Books did a beautiful long form piece about the rise of unique programming on National Public Radio, specifically This American Life by Ira Glass, and the challenges facing a new generation of radioheads.
Jon Stewart and Stephen Colbert held the Rally to Restore Sanity and/or Fear on Saturday, and I thought Stewart's closing speech was just awesome — funny, moving, and totally relevant. I actually cried during part of it, which is a little embarrassing but also evidence of how cynical I've been about politics recently. If you've got the 13 minutes, do watch his speech.
Bookish Links
Anthony Bourdain is coming to Madison in a few weeks (and I get to go see him, squee!!), so all the preview pieces are starting to go up. Here's one from Isthmus by local blogger/writer Kyle Nabilcy.
Dawn at She is Too Fond of Books had a Spotlight on Bookstores of an independent bookstore in Savannah, which caught my attention because I just finished reading Midnight in the Garden of Good and Evil which takes places in Savannah.
A new website recently came to my attention, Chapter 16, an online literary site from Humanities Tennessee. The site is focused on that region, but recent is trying to expand outwards. I think it's pretty cool – they have some great author interviews and other content over a variety of genres. Recently, they featured a Q&A with Margaret Atwood and a feature story about The Great Typo Hunt by Jeff Deck and Benjamin D. Herson.
The Future of Books
Trisha at eclectic/eccentric posed an interesting question on her blog – "Have we lost something by moving towards individualistic reading?" This connects with a recent Guardian article which asks, "What happened to essential books?"
Barnes and Noble introduced the NOOKcolor this week, which looked cool until I found out that the display is backlit (like an iPad or computer screen), not eInk like the current nook. Backlit displays = major headache for me = no jealousy over the NOOKcolor. Now if someone came out with an eReader with a color eInk screen, I'd be all over that. Until then, Crusoe and I are just fine. Although, the author of the article I linked to disagrees.
I love these photos from a library designed for the post-print era, although the lack of books makes me a little sad.
Science and Discovery!
A number of recent studies have found that people who have a sister are happier than people who don't. In a short NYT essay, author and linguist Deborah Tannen tries to look at why:
So maybe it's true that talk is the reason having a sister makes you happier, but it needn't be talk about emotions. When women told me they talk to their sisters more often, at greater length and about more personal topics, I suspect it's that first element — more often — that is crucial rather than the last.
Whatever the reason, I'm interested in reading Tannen's book, You Were Always Mom's Favorite! Sisters in Conversation Throughout Their Lives and sending much love to my dear sister, Jenny. (via MWF Seeking BFF)
Procrastination isn't laziness, its "fueled by weakness in the face of impulse and a failure to think about thinking," argues David McRaney in this amazing post from a new-to-me blog, You Are Not So Smart.
Books for My TBR
Prudent Advice" Lessons for My Baby Daughter (A Life List for Every Woman) by Jamie Morrison Curtis because it was mentioned in Shelf Awareness and sounds just charming. There's also a blog: http://www.prudentadviceformybabydaughter.com/
The Ayatollahs' Democracy by Hooman Majd because it was mentioned by Very Short List this week, and I'm always intrigued by books about Iran.
Make Yourself Happy by Lucy Knisley because of a review by Ash at English Major's Junk Food and because I like Lucy Knisley, in general.
The Emperor of All Maladies because of some book discussion on Twitter, although I'm pretty sure it made it to my TBR before this.
Googled: The End of the World as We Know It by Ken Auletta because it's new out in paperback this week. Thanks for the update, NPR!
Saving CeeCee Honeycut by Beth Hoffman because I'm on a "books about Savannah" kick thanks to Midnight in the Garden of Good and Evil. (via Shelf Awareness)
House of Love by Nicole Krauss because Steph (Steph &Tony Investigate) recommended it as a good Krauss book to read that has a little less hype.
The Chocolate Wars by Deborah Cadbury because Halloween has me thinking about candy (via @public_affairs and The Washington Post)
The Last Greatest Magician in the World: Howard Thurston versus Houdini & the Battles of the American Wizards by Jim Steinmeyer because of an ad in Shelf Awareness with a quote from Neil Patrick Harris (ok, fine, some celebrity quotes do work…) Plus, wizards are awesome.
That's the Tally this week — enjoy! Any favorites?