It's mid-November, I've read 93 books, and I only have two remaining "official" review commitments (books I agreed to be part of a book tour for). I have a big reading commitment coming up in January that I am excited about, but that is going to dictate my reading for a little while in the new year.
With that in mind, I've decided that I'm going to spend the rest of 2010 reading whatever and however I want.
But since I'm an over-thinker and a perpetual organizer, I've been going over a few strategies about how I might do this, and I'm curious to hear your thoughts about. Also, I've been reading some studies about how having too many choices can make people unhappy, so I'm hoping to increase my happiness by  scaling back my reading choices.
Plan 1: Meeting My Reading Goals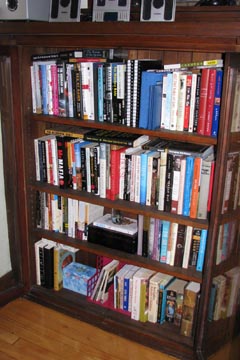 My biggest reading goal for the year was to balance the number of review books, library books, and personal books I read. I started out trying for 50 percent personal, 50 percent other, but that didn't last long. Last time I checked, I was at 36% owned, 31% review, and 33% borrowed. I'm certain it hasn't gotten better — 9 of the last 12 books I read were from the library or for review.
If I'm going to come close to meeting that goal, I could spend the entire rest of 2010 just reading my own books. And I have a lot to choose from — here you can see my entire TBR shelf, which is starting to overflow and take over the mantle. Getting through 10 – 15 of my own books would be awesome.
Plan 2: Returning Books to Friends and Libraries
Over the last 6 or so months, I've collected a few books from friends and from the library that I keep neglecting to read. I could focus specifically on these borrowed books, and then get them back to friends before 2010 is out, starting out 2011 with a clean slate of my own reading. Some of these books include:
The Devil in the White City by Erik Larson – Borrowed from my sister because I've wanted to read this book forever.
Sarah's Key by Tatiana de Rosnay – Recommended by my friend Jess because it's fiction with a journalist and intriguing narrative structure.
Guests of the Sheik by Elizabeth Warnock Fernea — Recommended by my friend Kristin because she knows about my love of first person accounts of women in the Middle East.
Plan 3: Catching Up on the Review Stacks
Right now I have 23 books that I've received from publishers/publicists/authors for possible review. I'm pretty selective about the books I accept, so they're all books that I'd like to read sooner rather than later. But finding the time is tough. Some of them are still from BEA – how embarrassing! Again, if I could read and review a few of these before the end of the year, I'd get to start 2011 feeling like I'm almost caught up. Options here include:
Plan 4: Chunksters!
I'm close to reading 100 books for the year, but what if I slowed down just a little bit? I have a few big, thick books sitting on my shelves, just waiting to settle into. I've been carrying around The Odyssey for a few days, and it's kind of fun to have a huge book in my bag (even if my shoulders are starting to object). I could dedicate the end of the year to a few of my chunksters without feeling guilty about not reading something else or worried I won't have time to finish a book in time for a book club or scheduled review. Books in this pile include:
Now that I think about it, I'm pretty sure I'll end up with a combination of these approaches. I'm leaning towards finishing up books I have to return to other people, since it seems rude to have had their books for so long, but I'm open to suggestions.
Any of the books listed seem like "must reads" for the end of 2010? What is your approach to end of the year reading – is it different from how you approach book choices at other times of the year?