This is just a quick reminder post that BookClubSandwich, an online book club for foodies and wannabes, co-hosted by me and Andi of Estella's Revenge, will be "meeting" online next Monday, November 8 to read Upton Sinclair's The Jungle.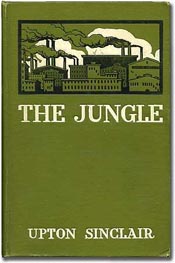 On Monday I'll put up an initial post with some thoughts, discussion questions, and a Mr. Linky for your reviews. You can post your thoughts anytime that week, then Andi will do a wrap-up post on Monday, November 15.
I just started reading The Jungle over the weekend, and already can think of things to talk about. One note in the introduction of my edition said that Sinclair was a little peeved about the reception of The Jungle and how focused everyone was one the food aspect. He'd originally written the book as a support of socialism, not as a food manifesto, yet we mostly remember it for the food. I'm curious to see how I read the book thinking about those things.
I also checked out a graphic novel version of the book thanks to a recommendation from Lisa at Lit and Life, which I'm also excited to compare. Is it clear yet that I'm excited?
Anyway, I hope you're looking forward to this as much as I am and will be able to join us all next week for a discussion of this important book.