There's a meme going around on Facebook that asks you to pick 15 novelists who've influenced you and will always stick with you. You're supposed to take 15 minutes to compile the list, tag at least 15 friends, and then post your note.
I did that, but then found that I wanted to talk all about the authors I chose – not part of the meme! Luckily, I have a blog where I can blather on as much as I want and no Internet Meme Police are going to stop me.
I already cheated a bit on my list anyway – a lot of them are nonfiction writers. But, they write narrative nonfiction which is sometimes called the "nonfiction novel," so it counts, right?
1. Joseph Conrad — I read Heart of Darkness for the first time when I was in 11th grade (for College Intro to Lit with Mr. Eret), and it was the first time I really understood what makes great literature. I finally got symbolism and metaphor and messages in books, that authors could say something with their work, and that literature is better when you have to dig a little to try and understand it.
2. Margaret Atwood — My first Atwood book was The Handmaid's Tale, which is a dystopian book that doesn't seem totally unlikely. Every time I finish one of her books, my first thought is, "Wow, this woman can write." I love the way she writes books that are beautiful to read, but also have that extra meat that makes them fun to talk and talk about. Both The Blind Assassin and The Robber Bride are among my top books of 2010.
3. Anne Lamott — She's on this list because of the book Bird by Bird, which is simultaneously the funniest and most thoughtful writing advice I've ever read. The chapter "Shitty First Drafts" has, for real, changed the way I write.

4. Tim O'Brien — This is another addition because of Intro to Lit in 11th grade. The Things They Carried is another book that, when read and discussed, changed the way I think about story. Powerful.
5. Anne Fadiman — The Spirit Catches You and You Fall Down is one of the best pieces of narrative nonfiction I have ever read, and it's one that I recommend to just about everyone I meet. It's a truly amazing story.
6. Tracy Kidder — Again, a narrative nonfiction writer than just puts together great books. I cannot wait to read more of him, since I think the only book I've finished is Mountains Beyond Mountains.
7. Jonathan Safran Foer — He's on this list because of Extremely Loud and Incredibly Close, a book that truly broke my heart in the most amazing way. It's not a book for everyone — especially of post-modern experimental writing isn't your style — but I loved it.
8. Joan Didion — Joan Didion is a journalist that I both fear and admire. I would never want to be someone she is writing about because I think she can be a really intense journalist (like in Slouching Towards Bethlehem)  but I also admire her tenacity and writing style — shown beautifully in The Year of Magical Thinking.
9. Billy Collins — A third entry because of College Intro to Lit! Billy Collins is the first poet I read that made me think I could really understand and enjoy poetry.
10. Deborah Blum — Deb is on here because she is a former professor of mine at UW-Madison. I learned a ton from her while working on my master's degree, and continued to be impressed with her writing. A recent favorite was The Poisoner's Handbook.
11. Charlotte Brontë — I love all the Brontë sisters, but picked Charlotte because of Jane Eyre, a book that's changed my views on feminism, and Villette, which I haven't finished but did love very much.
12. Susan Jane Gilman — But for the real impact on my views of feminism, we have to turn to Susan Jane Gilman and her memoir Hypocrite in a Pouffy White Dress. I wrote about this book on the Women Unbound Challenge blog, so I'll just direct you there for more.
13. Louisa May Alcott — I wanted to be Jo the first time I read Little Women, and although I'm not a novelist now, I think this book helped me figure out that I really did want to write for the rest of my life.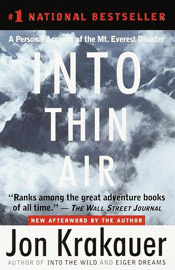 14. Jon Krakauer — Jon Krakuer is on here because I really admire him as a journalist and a writer. Into Thin Air is an amazing book, as are Into the Wild and Under the Banner of Heaven. He's another narrative nonfiction write I frequently recommend, especially to men who are not into reading (my dad, for example, really liked Into Thin Air).
15. Azar Nafisi — Her first memoir, Reading Lolita in Tehran, is a book that made me love reading books about books and books about life in the Middle East for women. I think the book is due for a re-read very soon.
So there you have it, 15 "novelists" that continue to stick with me. Agree or disagree with any of my selections? What authors would make your "15 Novelists List"?