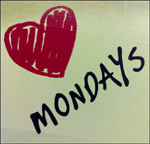 Monday Tally is a weekly link round-up of some of my favorite posts discovered over the week. If you have suggestions for Monday Tally, please e-mail sophisticated [dot] dorkiness [at] gmail [dot] com. Enjoy!
Quote and Photo of the Day
"I think books are like people, in the sense that they'll turn up in your life when you most need them. After my father died, the book that sort of saved my life was Gabriel García Márquez's novel One Hundred Years of Solitude. Because of that experience, I firmly believe there are books whose greatness actually enables you to live, to do something. And sometimes, human beings need story and narrative more than they need nourishment and food."

— Actress Emma Thompson on choosing seven "books that made a difference" for O magazine. Thanks for the quote, Shelf Awareness
Follow this link for the photo of the day, which is a great comic about the perils of a book addition. (Thanks Teresa at Shelf Love for point it out).
Writers in the Real World
A friend from college, Ben, has been blogging about his experiences in an MFA writing program. He's had a couple really thoughtful posts recently about the idea of casting nets widely, or read broadly to experience different types of books. His second post is a little more formal look at the idea and some of the short stories that helped him read widely this semester.
Anthony Bourdain came to Madison a few weeks ago, and my friend Lindsay wrote up her impressions of his speech. I got to go too, and will have some thoughts about it soonish… I hope!
News and Current Events
PC World did an interesting article about the new Facebook messaging system, which is rolling out slowly over the next few months, I think.
Given that I was traveling a lot of last week, I found this article about airline security in The Atlantic both alarming and frustrating. Props to the authors for a Tim O'Brien reference in the headline.
Time magazine asks: Is coffee losing steam among the next generation?
Here are 48 ads that would never be allowed to run today. These are both hilarious and sad.
The New York Times had a not very interesting and badly researched article that tried to suggest that women who make more money than men have romance problems. I disagree, but also found Linda Holmes' response both humorous and exactly correct.
Cookie Monster!
Cookie Monster wants to host SNL. I am all for it. I dare you to watch his audition film and disagree with me.
Books for My TBR