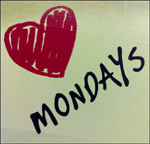 Monday Tally is a weekly link round-up of some of my favorite posts discovered over the week. If you have suggestions for Monday Tally, please e-mail sophisticated [dot] dorkiness [at] gmail [dot] com. Enjoy!
Quote and Photo of the Day
What makes a book great, a so-called classic, it its quality of always being modern, of its author though he be long dead, continuing to speak to each new generation.
— Lawrence Clark Powell (thanks to Melanie at The Indextrious Reader for sharing this quote on Twitter).
Another link out for the photo, this time to the New York Times' awesome sketch of what people were reading on the No. 6 train between Astor Place and 125th Street a few weeks ago.
Classics for the Common People
A couple of weeks ago now, the New Republic posted a pretty scathing critique of Oprah and her book club, specifically upset about the fact that Oprah chose two Charles Dickens novels without – gasp! – having ever read Dickens before.
I found the entire piece snide, and a perfect example of why people end up afraid to read classics – because people like this author tell them that classics are too hard or that they can't be understood without a more serious guide than Oprah. The article also calls out people for reading classics through the lens of, "What can this teach me about myself?" which is patently absurd. One reasons classics are classics because they have themes that speak through generations, so reading in that vein is completely acceptable.
I could go on, but Ron Hogan over at Beatrice pretty well sums up my disgust in a more articulate manner than I can manage this morning.
Talking About Books
Bitch magazine has a great piece about the female characters in Harry Potter, who are all as awesome or even more awesome than Harry himself.
Jacket Copy has a list of 29 literary films for the holidays. I have a lot of new options for my Netflix queue.
Favorite Best of 2010 Book Lists
A list of lists, how meta! First up, NPR has been doing a ton of best of 2010 books lists, and I've really enjoyed most of them. Here are a couple of my favorites:
Author Danielle Evans (Before You Suffocate Your Own Fool Self) recommended some of her best reads of 2010 for The Millions, which included the excellent The Warmth of Other Suns by Isabel Wilkerson and the equally great A Visit from the Goon Squad by Jennifer Egan.
Some Smiles for After the Holidays
I will say again, Linda Holmes at NPR's MonkeySee blog is one of my favorite bloggers out there. Her recent list of 50 Wonderful Things from 2010 is just full of things that will inevitably make you smile.
I know Christmas is over, but I just love this video from the Belfast Giants hockey team singing "All I Want for Christmas Is You."
This story from boston.com is really moving. I won't tell you what it's about, just go read it.
I love stories about people with odd obsessions. The New York Times has a profile of a physicist who has changed the way we look at urban planning by plotting cities using mathematics.
Books for My TBR