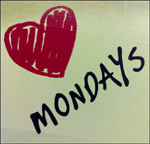 Monday Tally is a weekly link round-up of some of my favorite posts discovered over the week. If you have suggestions for Monday Tally, please e-mail sophisticated [dot] dorkiness [at] gmail [dot] com. Enjoy!
Photo of the Week
Because I'm a sucker, here's a picture of my adorable kitten, Hannah, lounging over the weekend.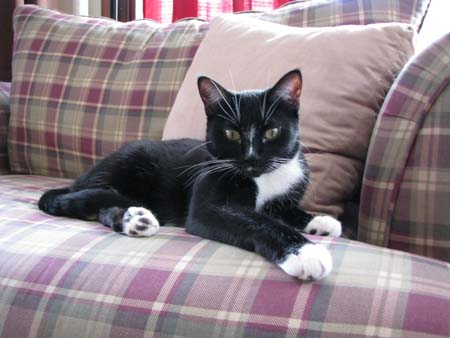 Narrative Journalism, For the Win
I love when journalist try experiments when telling narrative stories. "A Facebook story: A mother's joy and a family's sorrow" from the Washington Post is a story told almost entirely using Facebook status updates. It's just amazing. I also enjoyed reading an interview with the editor of the story from Nieman Storyboard. He explained the idea this way:
It was a way to get people talking about how people are portraying their lives on Facebook. The story in and of itself has a power, and there's almost a voyeuristic appeal to it. But I think what makes it worthwhile beyond that is the questions it raises about just how much we're living on Facebook and whether and to what extent that displaces human contact.
Longform.org, one of my favorite websites for collecting long-form journalism, put together a great list of their best of 2010.
In slightly related social media news, the Wall Street Journal has a story about how Jane Austen is reemerging in the digital world.
Heard of LAPTOPISM? The New York Times looks at the social norms and expectations of the coffee shop laptop scene.
Good for Giggles
Grammar jokes! What punctuation mark has made the biggest comeback? Think Twitter, people.
We use TED Talks at work all the time, so this comic from the Joy of Tech – If TED Talks ran out of smart people – gave me a giggle or two.
If you get the part of this description of the Green Hornet that made me laugh, then we can be best friends forever.
Name: Green Hornet, aka Britt Reid

Schtick: Newspaper publisher by day, two-fisted masked crimebuster by night. You know, like Katherine Graham.
My Writing on the Interwebs
I am starting a freelance assignment with a local newspaper to do a monthly books column. My first one was posted last week, and covers end of the year lists, #FridayReads, e-readers, and local Christmas storytimes.
While I was unplugged I made a trip to Las Vegas to go to a conference for work. I wrote a couple of pieces after that — one about the conference as a whole, and one about getting to see some of the new TRON: Legacy movie.
Books for My TBR