Sometimes, I am the queen of being totally oblivious. Here's my most recent story.
On Wednesday, two of my male coworkers both asked me for book recommendations, and let me tell you, I was thrilled! I love giving book recommendations.
The first said his mom was into nonfiction on education and sociology, so I went with my old standard, The Spirit Catches You and You Fall Down by Anne Fadiman, along with a couple more recent books: The Immortal Life of Henrietta Lacks by Rebecca Skloot and Waiting for "Superman," edited by Karl Weber.
Shortly after, my second coworker told me his mom was in a book club and in charge of picking the next book. He said she wanted something that recently came out, and that she was into history and nonfiction. I gave him a few books I'd read and enjoyed, including:
A Visit from the Goon Squad by Jennifer Egan, just because my book club recently read it and I think it'll be good book club fodder.
Again, The Immortal Life of Henrietta Lacks by Rebecca Skloot.
He also asked for some books that I was excited about reading or hadn't got to yet, so I also suggested:
I was so excited about being asked that I also e-mailed him NPR's recent list of best book club books of 2010 for some ideas.
Needless to say, I was feeling pretty darn proud of myself. I mean, people know me as a reader and want my advice on good books – what more can a book nerd want?
Yesterday, Friday, was our work Christmas party, so everyone was in a sort of festive mood most of the day. Early in the afternoon my editor sent me an e-mail with the subject line, "Can you stop by for a second."
I got a huge pit in my stomach – doesn't that sound like an e-mail you get when you're in trouble? When I got over to his cube, he turned around and handed me a present, saying "Merry Christmas!" I opened it right there and guess what I got?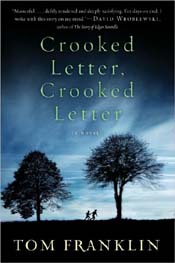 A copy of Crooked Letter, Crooked Letter by Tom Franklin.
"Wow!" I thought, "I just recommended this to someone! What an interesting coincidence!"
When I said that to my editor, he laughed and said, yeah, he'd had my coworkers do some spying for him to try and pick out a book – turns out neither of them really wanted my recommendations, just needed some gift ideas for me.
So while I lost the smug joy of getting to recommend books to people, but I got a beautiful hardcover of Crooked Letter, Crooked Letter as a gift and had it confirmed that I have amazingly thoughtful coworkers. That's pretty cool, even if I felt like the world's biggest dork most of the rest of the afternoon!
Anyone else get tricked by people trying to be sneaky and come up with Christmas presents, or am I the only one?