The best thing about being unplugged since before Thanksgiving was that I got to read a ton of books! It was great, and helped me get over a reading slump from the beginning of the month.
Luckily for me, all the books I read were quite good. Unluckily, I don't really have much to say about them other than, "I liked this, read it!" since I was reading more for fun that anything else. So another round of "mini-reviews" it is (in quotes because even when I'm trying to be succinct, I'm unfortunately long-winded). Here are the books, with links down to the review:
Before You Suffocate Your Own Fool Self by Danielle Evans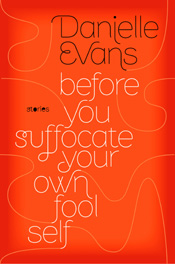 Before You Suffocate Your Own Fool Self is a debut collection of short stories by Danielle Evans. The stories are all about young people, most of them mixed-race, and offers thoughts about what growing up with that sort of dual identity means. On her blog, Evans says the book gets it's amazing title from "The Bridge Poem" by Donna Kate Rushin. Evans adds:
The title also reflects back on many of the characters in my book, who have often gotten themselves into their own messes, or are at a moment where they need to make a choice about who they're going to be, and whether their best selves will hold their worst selves at bay, so the title also works as a link between the stories in the collection and a directive to the characters.
I think that description explains exactly what I enjoyed so much about this collection — it is full of people with potential, making choices about how they're going to move forward. Despite the fact that many of the situations are unfortunate, frustrating, and sad, there seems to be a sense of optimism and a sense of humor in the stories. It's a thoughtful book that's allows for a smirk now and then, and it's hard to ask for much more than that.
Sarah's Key by Tatiana de Rosnay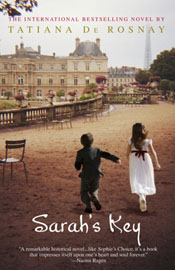 Sarah's Key by Tatiana de Rosnay is a book about the Holocaust that manages to shed a completely new light on a historical event that it feels like we already know — a feat that I didn't think was possible.
The story has two narratives – 45-year-old journalist Julia Jarmond, an American living in Paris with her husband in the present, and 10-year-old Sarah, a Jewish girl living in Paris in 1942. Julia is assigned to research the 1942 Paris round up of French Jews, who were held for days in the Vélodrome d'Hiver then sent to Auschwitz. This is an event I'd never heard of, which made even a fictionalized account of the event absorbing.
In addition to a new way to look at an old story, I was really impressed with the book's pacing, which switched between narratives in such a way that you always have to read the next chapter to find out what is going to happen (like Dan Brown, except without being lame). Both Sarah and Julia are great characters — Sarah sometimes more that Julia, who could be sort of melodramatic, but still enjoyable. It's not always an easy book to read, but one that I'll be recommending.
The Genius Factory by David Plotz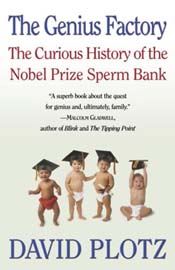 Once upon a time, an eccentric millionaire decided that it was a shame that really, really smart people don't have many kids. So he contacted a bunch of Nobel Prize winners and asked them to donate their sperm for a very special sperm bank that would only sell sperm to women of the highest quality — Mensa types, that sort of thing. The result was the Repository for Germinal Choice, aka the "Nobel Prize Sperm Bank." Can you imagine all the ways this could go wrong?
The Genius Factory is journalist David Plotz's attempt at putting together the story of the sperm bank. Because medical records for sperm donors are notoriously secret, and most of the records of this extremely odd and problematic project are gone anyway, it's a rather incomplete but nonetheless oddly fascinating story. What makes the book especially good is the way Plotz uses the sperm bank as a way to discuss much bigger issues about medical ethics, the growth of artificial insemination, and the nature versus nurture debate that many of the Genius Bank kids represent.
Guests of the Sheik by Elizabeth Warnock Fernea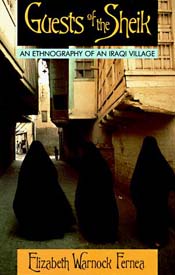 This book came as a recommendation from my friend Kristin after she learned how much I love memoirs about Western women in the Middle East. In Guests of the Sheik, newlywed Elizabeth Warnock Fernea moves to the small Iraqi village of El Nahra with her anthropologist husband to do an ethnography of the village. Because gender divisions in El Nahra in the late 1950s were even more stringent than they are today, Warnock Fernea spends most of her time living and learning from the women of the village.
I read this book while on planes and found it pretty interesting, despite the mildly-dry sounding premise. Although it doesn't cover anything especially different, it was fun to get a perspective from the late 1950s, when things were very different from now. I think Warnock Fernea does a fair job acknowledging her cultural misconceptions and biases, although it would have been nice to have more perspective from the women who live in the village. For people as in love with this particular topic as I am, Guests of the Sheik is worth taking a look at.
Packing for Mars by Mary Roach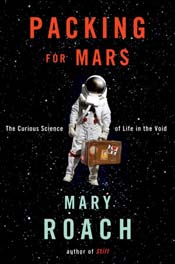 Everyone who has said good things about this book (I'm looking at you, Jill and Trisha), is totally right. In Packing for Mars, Mary Roach takes her unique sense of fun and unembarrassed curiosity and turns it on the United States space program, specifically what it takes here on Earth to get ready to go into space — How do we choose astronauts? Do humans go crazy in space? Can you have sex in space? What should astronauts eat? And how do they go to the bathroom?
I read this book mostly on an airplane, which in retrospect was probably a silly idea — the chapter on motion sickness, combined with a bumpy landing into Denver, made me a little squeamish. But other than my own weird reading times, I thought this book was really enjoyable. I love that Mary Roach isn't afraid to ask the questions we think of but don't want to ask, or the questions that seem so off the wall they don't even register. It makes her books a little cringe-worthy, but always entertaining and full of inappropriate dinner party anecdotes.
So that's some of the stuff I've been reading for the last month, as succinctly as I can put it. Want to know more about any of the books? Ask away in the comments!