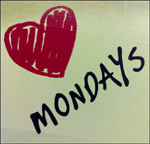 Monday Tally is a weekly link round-up of some of my favorite posts discovered over the week. If you have suggestions for Monday Tally, please e-mail sophisticated [dot] dorkiness [at] gmail [dot] com. Enjoy!
Video of the Week
Neil Pasricha, author of The Book of Awesome gave a sweet TED Talk about the three A's of awesome: attitude, awareness, and authenticity.
Additionally, his blog, 1000 Awesome Things, featured one of my favorite awesome things: the smell of a library.
Debating the Life of a Tiger Mom
Last week I listed Amy Chua's memoir Battle Hymn of the Tiger Mother as a book added to my TBR because, "the idea of reading a memoir from an uncompromisingly tough mother raising her kids in a way that's totally foreign to me sounds absolutely fascinating." I found or was pointed to a couple of interesting reaction pieces to the book that I wanted to share:
David Brooks of The New York Times says, "Amy Chua Is a Wimp," arguing that Chua is actually coddling her children by keeping them away from some of the most socially demanding activities that children face:
Practicing a piece of music for four hours requires focused attention, but it is nowhere near as cognitively demanding as a sleepover with 14-year-old girls. Managing status rivalries, negotiating group dynamics, understanding social norms, navigating the distinction between self and group — these and other social tests impose cognitive demands that blow away any intense tutoring session or a class at Yale.
Sophia Chua-Rubenfeld, the author's daughter, wrote a piece for the NY Post about what it's like living with a "Tiger Mother."
Cass (Bonjour, Cass!) pointed me to this post from Resisting Racism, which criticizes Chua for perpetuating ethnic stereotypes and attributing her parenting style to an entire culture. I could have done without the profanity, but the point is well-taken.
The Olive Reader (Harper Perennial's blog) linked to a story by one of their authors, Lac Su, author of I Love Yous Are For White People, about his life growing up with a Tiger Mother and a Tiger Father. Thanks to Jen (Devourer of Books) for reminding me about this one.

The Beginning and End of Blogging
Nat at Book, Line, and Sinker is doing a series of posts about what it takes to start up a blog — even as a veteran blogger, I found the tips and thoughts in her first post worth taking some time to read. I can't wait for the rest of the series.
Now that blogging as a trend isn't an interesting story, bloggers who quit blogging are starting to make news. Riiiiiight. Sarcasm aside, it is an interesting look at what happens when something that's supposed to be fun becomes a badly-paying part time job, and what to do about it.
What Research Can Tell Us
I found this statistic from a WSJ article on authors how authors move their own merchandise (aka market their book) flabbergasting (emphasis mine):
According to Penny Sansevieri, an adjunct professor at New York University and CEO of Author Marketing, a publicity firm, there are 1,500 books published daily in the U.S., including self-published titles. "To get noticed," she said, "you have to throw more at people than just your book."
A recent study by New York University sociologists found that many students didn't learn the "critical thinking, complex reasoning and written communication skills" that are often assumed to be the core of a college curriculum. That's sort of sad, but there was at least one point of optimism for us English majors:
Students who majored in the traditional liberal arts — including the social sciences, humanities, natural sciences and mathematics — showed significantly greater gains over time than other students in critical thinking, complex reasoning and writing skills.
The News from Madison
Our local newspaper did a lovely profile on a hair salon owner who lost five fingers and part of her leg to meningococcal meningitis, but was able to re-teach herself to style hair and reopen her salon. It's a well-done piece.
Olympic figure skater Johnny Weir came to Madison for a book signing last week, and apparently he was quite charming. I loved this story about the event.
And the Randoms
The ladies of What's Old is New — Jen (Devourer of Books) and Nicole (Linus's Blanket) — went through books scheduled for release later this year and pulled out a great list of books that make something old new again.
If you could only converse using epic hyperbole or some variation of "meh," what would you choose? A.V. Club writers discuss which kind of discourse is worse on the Internet.
Books for My TBR
The Edgar Awards, an annual award for crime fiction, non-fiction and television, announced their nominees. I'm curious about: