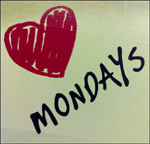 Monday Tally is a weekly link round-up of some of my favorite posts discovered over the week. If you have suggestions for Monday Tally, please e-mail sophisticated [dot] dorkiness [at] gmail [dot] com.

It's late on Monday, but still Monday, so I am squeaking in the Tally just in time. There are some great links this week, so enjoy!
The Sunday Salon is Open!
One of my favorite weekly memes, and the only one I continue with semi-regularly, is The Sunday Salon — "an informal, weekly, mini read-a-thon, an excuse to put aside one's earthly responsibilities and fall into a good book." For awhile it was closed to new members because the technology behind it couldn't handle the feed. But, the organizer now moved it to Facebook and the meme is open to everyone. So visit The Sunday Salon on Facebook and join in!
My Writing and 2011 Trends
JWT Intelligence, a market research firm, put together this fun little video about some top trends for 2011. The video inspired a blog that I wrote for my real job "Outsourcing My Self-Control," which I think turned out pretty well.
Related to Resolutions
The new year is a time when people make resolutions, but this article from the Guardian suggests some different — and slightly counter-intuitive —  approaches for becoming a better person.
However, if eating healthier is one of your new year's goals, this list of 10 tips for a healthier diet is worth a quick read. Nothing earth chattering, but certainly good reminders.
NPR did a fabulous series on the challenges of finding the mythical "work life balance." All three stories give some great thoughts on ways to shift work environments to make it easier for different types of people to live the lives they hope for.
Cool Things for Book Bloggers
Being Ruth wrote up a very useful tutorial on how nook users can use Overdrive, an e-book rental service used by many libraries. I've never tried Overdrive, in part because it looks intimidating, but this tutorial has eased my fears a bit.
Steph (Bella's Bookshelves) wrote a lovely post about abandoning blogger guilt, and has some great quotes about why we should not feel guilty about reading. My favorite was this one:
I have no feelings of guilt regarding the books I have not read and perhaps will never read; I know that my books have unlimited patience. They will wait for me till the end of my days. —Alberto Manguel
Amy (My Friend Amy) featured a great interview with Heidi Mager, the project manager for Indiespensable, the Powell's Book Club subscription service. I loved getting to read how each of the boxes gets put together. Now I want to sign up!
The Randoms
Sad that all your tweets and Facebook updates are only available online? 10,000 Words shares five ways to publish your social media messages — this strikes me as pretty funny.
Ricard Ben Cramer's 1,049-page book about the 1988 presidential campaign was slammed when it was first published, but has become one of the seminal pieces of campaign reporting since. I knew all of that, but a recent POLITICO story about Cramer and the book gave it some context I didn't know before.
Books for My TBR
The Millions featured a very comprehensive preview of books to look forward to in 2011. A few from the list that caught my attention were:
Unfamiliar Fishes by Sarah Vowell, because I LOVE her and can only squee in excitement about this book, which looks at American imperialism in 1898. (March)
Blue Collar, White Collar, No Collar: Stories of Work edited by Richard Ford because I need more short stories in my life and I like reading about work (weird, I know). (May)
The Uncoupling by Meg Wolitzer because I like the idea of modern version of classic Greek stories — I'm still on an Odyssey kick, I think. (May).
Estonia: A Ramble Through the Periphery by Alexander Theroux, a book that "emerges from Theroux's time spent in the former Soviet republic while his wife was on a Fulbright Scholarship. Ever observant, Theroux uses Estonia and its people as a lens through which to look back at America." (July)
Beijing Welcomes You by Tom Scocca, because this book "examines the Chinese capital on the cusp of its global moment, tracking its history and exploring its singular character." (August)
Night Film by Marisha Pessl because while I haven't gotten to read Pessl's first book, Special Topics in Calamity Physics just yet, knowing she has another book coming out in August might give me some more motivation to get it read. (August)
Other books that caught my eye this week included:
The Anatomy Murders by Lisa Rosner because I just read briefly about these two murderers (William Burke and William Hare) in Bill Bryson's At Home. I love weird nonfiction connections!  (Thanks for tweeting about it, @history_geek)
Blood Work by Holly Tucker (the aforementioned @history_geek) because I am nothing if not oddly fascinated by weird and disgusting medical history.
Poser: My Life in Twenty-three Yoga Poses by Claire Dederer because of a lovely review in the Star Tribune.