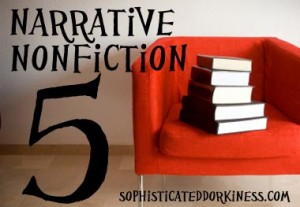 This is, I think, the oddest Narrative Nonfiction 5 list that I've put together. I'm not really that passionate about ocean creatures, but I just happened to see a lot of books on this topic come out recently that looked interesting, and the list sort of fell together from there. And, I have a special guest recommendation from a friend Erin, a science journalism student at UW-Madison where I did my Master's.
But enough with the introduction, on to the books!
The Secret Life of Lobsters by Trevor Corson (2004)
The Secret Life of Lobsters: How Fishermen and Scientists Are Unraveling the Mysteries of Our Favorite Crustacean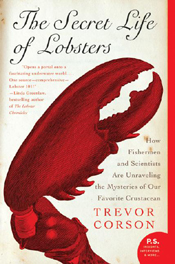 This is the one book on the list that I have read, and it's one of my favorite odd narrative nonfiction books to recommend to others. What I love about the book is that Corson is able to take something I am not at all interested in – lobsters – and make them the center of a highly entertaining story. If you want more gushing, I'll just send you over to my review.
As a bonus, I'll add Corson's second book The Story of Sushi: An Unlikely Saga of Raw Fish and Rice (2008) to the list – another book I enjoyed, but don't have quite the same zealous affection for.
Eels by James Prosek (2010)
Eels: An Exploration, from New Zealand to the Sargasso, of the World's Most Mysterious Fish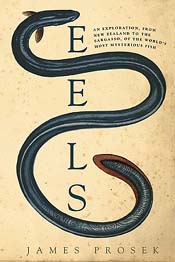 I'm pretty sure Eels is the first book I randomly saw in a publisher catalog that made me wonder how many books I could find about ocean creatures. From the description, it sounds like the book is a look at the mystery that is eels, but also a sort of sociological story about the role eels play for different cultures. I find eels quite creepy – they remind me too much of snakes, which terrify me – but I am excited to read the copy of this book I got from a friend.
Four Fish by Paul Greenberg (2010)
Four Fish: The Future of the Last Wild Food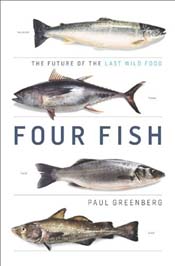 Four Fish is an investigative book about global fisheries, written by Paul Greenberg, a seafood writer for the New York Times (aside, I didn't know that was an actual beat at a newspaper). The four fish in question are salmon, tuna, bass, and cod, and are a dominant part of the global market for seafood. I added this book to the list because it sounds interesting and may also be a good context for the other books on the list.
The Whale by Philip Hoare (2010)
The Whale: In Search of the Giants of the Sea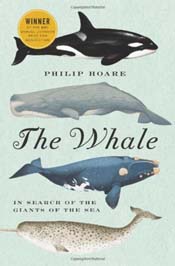 This is a book that actually hasn't come out in the U.S. yet This book came out in the U.S. last year, and I saw it mentioned as one of CS Monitor's best nonfiction books of 2010. The British version, Leviathan, was awarded the 2009 Samuel Johnson Prize, a British award for nonfiction. After reading Moby Dick, Hoare said he became captivated by whales and spent years trying to learn more about them. Interestingly, Hoare isn't a naturalist or science writer – he's a biographer – which I think will bring a cool perspective to the topic. (Thanks for the correction, Eva!)
The Windward Road by Archie Carr (1956)
The Windward Road: Adventures of a Naturalist on Remote Caribbean Shores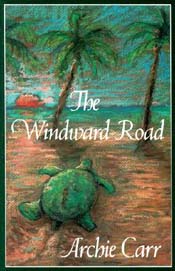 I got this book recommendation from my previously mentioned friend Erin, who came to my rescue when I was having a hard time finding a great book to finish out this list. Here's what Erin had to say about the book:
The book is about Carr's adventures in the Caribbean researching sea turtles. … It's not flawless, but it was really good, enjoyable, won the John Burroughs Medal for nature writing, brought what's as far as I've read the first international attention to Caribbean sea turtle conservation, and prompted Joshua Powers to found what would eventually become the Sea Turtle Conservancy. I read a description of Carr somewhere as the Rachel Carson of sea turtles.

An interesting part is I have a later edition (it was originally published 1956), and in the preface Carr expresses regret that he spent so much time talking about how delicious the turtles were, because he was a really old-school naturalist back then, haha; later he stopped eating them, although he still thinks they taste good.
So there you have it, five narrative nonfiction books about creatures of the sea. I know they sound a little odd, but I think that's the best reason to give narrative nonfiction a try. If done well, the writing and story can make even the oddest topic seem completely fascinating.