In my review of Emily White's memoir Lonely, a story of her battle with chronic loneliness, I mentioned that the book made me think a lot about friendship. I thought it would be fun to follow the review up with some of my favorite books and other media on friendship to cheer things up a bit.
One blog I've been reading for about seven months now is MWF Seeking BFF, a blog about what it's like to try and make friends as an adult. The blog is written by Rachel Bertsche, a Married White Female searching for a Best Friend Forever. Bertsche moved to Chicago to be with her boyfriend several years ago, then realized she didn't really have a single girlfriend in the city:
I always thought friendships blossom naturally, like at summer camp and in school. In the grown-up world, apparently this isn't the case. So I'm taking matters in my own hands.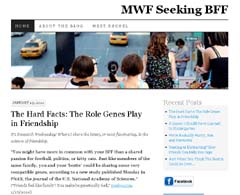 I started reading the blog more regularly last May, right around the time I finished my Master's and started my job as an editor at a trade magazine. I had a hard time initially making friends when I moved to Madison a couple of years ago, and I was worried about how my friendships would change as I entered the working world — would I lose all the ones I had, make new friends a work, or some combination of both?
What drew me to MWF Seeking BFF is how honest Bertsche is about her quest for friendship — the ups, the downs, and even the fact that it can be just plain hard to make friends when you're a grown up. And she's bold, a lot more bold that I have ever been. Since I've been reading her blog, Bertsche has gone on girl dates, joined improv, tried social dining, and been in a book club (well, I actually do that). She has fun adventures in friending, and then takes the time to write about them.
Bersche's blog is currently on a blog tour for Booklicity, so if you see her popping up a lot this month that might be partly why. When I was asked to participate in the tour, I also found out that Bersche has a memoir scheduled for release in early 2012 from Ballantine, covering similar territory to her blog, which I am excited to read.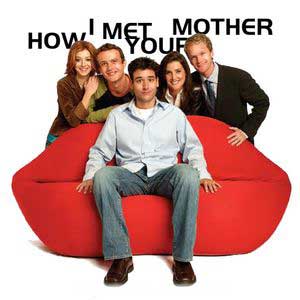 One show about friendship that's been mentioned relatively often on MWF Seeking BFF that I am in love with is How I Met Your Mother. Each episode starts out in the year 2030 with Ted Mosby telling his children part of the story of how he met their mother. But that's not really the point of the show — I've always thought it was more about the process of growing up, finding your place in the world, and how your friends fit in and help you do that. I guess this is not technically reading, but lets just go with it!
From the very first episode of the show, Ted has had a core of four great friends around him. Marshall and Lilly, a couple he's been friends with since college; Robin, a local television anchor who struggles with her work and relationship balance; and Barney, a consummate player who provides a regular source of absurd humor.
In addition to being well-written, funny, and so, so easy to watch on reruns, I also love the way the writer's capture the sense of being in your twenties and trying to figure it all out. The characters regularly make mistakes, act like jerks to strangers and each other, and experience firsts and lasts together. Do you get the sense that's a theme with a lot of the stuff I'm consuming now, being in my twenties myself?
Yes, the laugh-track is cheesy. Yes, Barney is usually a caricature. And yes, sometimes Ted has a theory that is so far off the mark from real life that you can't help but groan. But I love it anyway.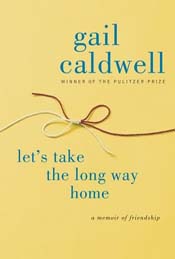 And interestingly enough, I just realized MWF Seeking BFF has also featured the book that got me started with this whole friendship post:  Gail Caldwell's 2010 memoir Let's Take the Long Way Home. I'm reading this book because it made the short list for the Indie Lit Awards in nonfiction, a panel I'm helping judge, and I must say I'm so glad it's there because otherwise I'm not sure I would found it.
Let's Take the Long Way Home is the story of Caldwell's friendship with writer Caroline Knapp, who died of lung cancer in 2002. The two met over their love of dogs, and soon their friendship blossomed into something much deeper. I love this book as a more adult look at friendship, as something we can all aspire to find as we mess through the finding BFFs and meeting our loves that I tend to normally read.
Caldwell has a beautiful way with words, with finding just the correct phrase when trying to sum up a feeling or experience.
"I had a number of old and solid friendships, male and female both, but these days most of the local ones belonged in the second circle of intimacy—the people you'd call when you were hit by a bus, but not necessarily if you'd merely sprained an ankle."
"Everyone had a dozen stories like these, all the concentric circles of calamity, sad details packed in between trauma and loss."
I just finished this memoir a little bit ago, and so I'm still processing it for an actual review. And really, talking about Let's Take the Long Way Home actually takes me back to the beginning of this post, since much of the book is devoted to Caroline's death and how Caldwell and others deal with this loss, the loneliness of losing a best friend. It reminds me of Joan Didion's grief memoir, The Year of Magical Thinking, except that Caldwell's story focuses a lot on what it means to be friends and the process of friendship growing.
I guess in a lot of ways friendship and loneliness come close together, and its hard to think of one without remnants of the other on your mind.
What are some other books, blogs, or television you recommend about friendship? What's your favorite book to recommend to a close friend?
Photo Credit: Star photo by Analía Manetta via Flickr Creative Commons. And a P.S.: You know you have great blogging friends when they will point out spelling errors in your post title. Thanks, Care 🙂