This Sunday has been pretty slow, but in a good way. I spent the morning finishing up my eighth book of the month, The Postmistress by Sarah Blake, which capped off a great month of reading. I spent the early part finishing up the  nonfiction reads for the Indie Lit Awards, plus some other nonfiction I've been excited about for awhile. Here's the list:
At Home by Bill Bryson

The Devil and Sherlock Holmes by David Grann
Cleopatra by Stacy Schiff
Lonely by Emily White
Let's Take the Long Way Home by Gail Caldwell
The Edible Woman by Margaret Atwood
Nothing to Envy by Barbara Demick
The Postmistress by Sarah Blake
There are a few things I love about looking at that list of books. First, I'm not sure that I could pick just a single favorite book from the month. Lonely was an excellent, well-researched memoir. I loved The Edible Woman because Margaret Atwood is such a fun writer. And Nothing to Envy was amazing — it has earned well-deserved honors on a number of best of 2010 lists. I can't wait to write the review for it.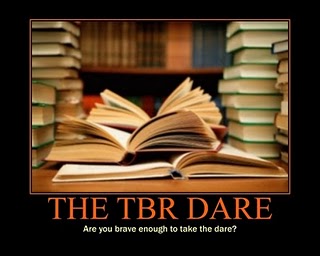 And, in even better news, seven of the eight books count for the TBR Dare, hosted by Ready When You Are, CB, which I signed up for at the beginning of the year. The only one that didn't count was The Postmistress, which I got as a review assignment for our local newspaper later this month. Yep, I'm going to be a real book critic! I'm pretty psyched. I think that's a worthwhile TBR Dare exception.
And last, the list really reflects the kind of reading I want to be doing. Half were my own books, two were from the library, and two were review copies. The split between fiction, nonfiction, memoirs, and narrative nonfiction was totally even. And there were actually more female authors that male authors (six to two, which is awesome!). It's a reading month I look back on and feel really proud of.
I think my focus for February is going to be review copies, since I read mostly own books in January. I have a number of them I'm looking forward too — Reading Women by Stephanie Stall, My Maasai Life by Robin Wiszowaty, Yummy: The Last Days of a Southside Shorty by G. Neri, and Ugly Beauty by Ruth Brandon have all been calling my name recently.
But first, I'm going to watch some more Parks and Recreation on Netflix, make some lunch, and enjoy the rest of a really lazy Sunday.
How was your reading in January? What was your favorite book from the month? Any exciting reading plans for February?