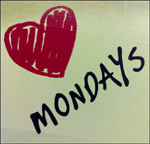 Monday Tally is a weekly link round-up of some of my favorite posts discovered over the week. If you have suggestions for Monday Tally, please e-mail sophisticated [dot] dorkiness [at] gmail [dot] com. Enjoy!
Science Author/Journalists
Jonah Lehrer, who might win the award for "Science Writer I Like Best Withough Actually Reading His Book," had an interesting piece about the creative benefits of distraction — a nice reminder in an age of constant productivity.
Joshua Foer, author of a book on my TBR pile right now: Moonwalking With Einstein: The Art and Science of Remembering Everything, wrote an article called "Secrets of a Mind-Gamer." I read the first part of the story and thought it was quite good, but skimmed the end (since I'm going to be reading the book anyway).
Readers on Reading
Teresa (Shelf Love) is contemplating ways of "shutting off the fire hose" of books on her shelves. The post feels like something I could have written myself, since I feel the same way.
Meg (write meg!) has a great post about how she finds time to read even though people in her life rarely see her reading. For the most part, this could have come straight out of my own life.
A new type of relationship therapy, bibliotherapy, could help couples reconnect over specifically chosen books. I'm really intrigued by this idea, and curious what kind of reading list someone might come up with for Boyfriend and I.
Anyone who loves organizing bookshelves even a little bit should take a couple minutes to watch this video of bookshelf arranging gone to far. It's awesome.
Bloggers on Blogging
More thoughts on working with book bloggers with some tips for authors approaching book bloggers. I like reading posts like this one, which is full of actual helpful advice for working with bloggers, because it makes me feel like some people actually get it. Thank goodness!
The New York Times has a long profile of Heather Armstrong, blogger at Dooce.com. If you haven't ever read about Armstrong, who was one of the first "mommy bloggers" and first people to make a living blogging, definitely check out the piece.
Because I Like Television…
For tv fans out there, this analysis of why Glee and Community are basically the same show is a must read. You might not agree with the conclusions, but it's a thought-provoking read. I happen to think the author is spot on, but that might be because I'm a fan of both shows.
What's the Deal with eBooks?
I didn't follow this controversy at all — Friday at work was a mess — but apparently some publishers want to cap the number of times a ebook can be circulated at the library to 26 times. After that, the library would need a new license for the book. As might be expected, this made people mad.
Will the rise of ebooks threaten the pastime of marginalia?
Books for My TBR