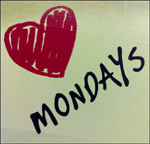 Monday Tally is a weekly link round-up of some of my favorite posts discovered over the week. If you have suggestions for Monday Tally, please e-mail sophisticated [dot] dorkiness [at] gmail [dot] com. Enjoy!
I think today's tally is especially eclectic. I'm not sure why—I must have done a lot of link clicking last week.
In honor of Valentine's Day, one love related article about the idea of having a "work spouse," and whether that person should get a Valentine. I found this whole idea weird, but maybe that's just me?
For the Love of Reading
Sheila (Book Journey) wrote about the challenge of reading chunksters and how, despite really wanting to read them, they often get left on the shelf. Given that I am trying to start War and Peace, a chunkster if there ever was one, I liked reading this post and following the great discussion in the comments.
Trish (Love, Laughter, and Touch of Insanity) wrote about "freezer books" – a joke from a "Friends" episode that I've never seen but think is funny. How would you describe "freezer books"?
A post I wish I'd written myself: Ash (English Major's Junk Food) points out the many reasons it is dangerous (and challenging!) to be a lover of nonfiction.
For the Love of Books
Memoirs sometime get a bad rap (I give them that occasionally, I hope only when it's deserved), so sometimes it's nice to admit writing a great memoir is hard. I enjoyed this interview with Angela Balcita, author of the memoir Moonface, where she notes:
When I teach, I tell my students sometimes that personally, I think writing memoir and writing nonfiction is harder than writing fiction. In fiction, you create characters and circumstances and ways characters are going to deal with these circumstances; in memoir, you experience it first. You live your life; something happens, and you have to attach meaning and significance to those moments. You're trying to figure out what happened and how you're going to get through it. It's a whole different way of thinking.
There was a really nice profile of a local bookstore, One More Page Books & More in Arlington, Virginia, in Shelf Awareness last week, which quoted one of my favorite bloggers, Jenn of Jenn's Bookshelves.
Brian Jacques, author of the Redwall series, passed away last week. I loved the Redwall books well into my teenage years, so I'm sad to learn there won't be anymore of them. There were a number of thoughtful obituaries about his life:
For the Love of Publishing
Have you heard of the term "remaindering" in publishing? If not, this post from Rants & Ramblings talks about why you often find so many books on the "sale" table at the front of book bookstores.
Some authors really get how to use social media—this summary of a recent panel of authors hits many of the main points of why it's important and how to do it well. A great read if the topic is interesting to you.
In a slightly related issue, book critic Harvey Freedenberg asks whether book critics and authors can be friends?
For the Love of Journalism
The world's luckiest middle school students got to interview James Franco, and he recited from Byron for them. It is the CUTEST thing ever. I wish I'd gotten to do a journalism program like this one when I was a kid.
I have a not-so-secret love for great sports writing, of the newspaper or book variety. I enjoyed Chris Ballard's recent profile of Jake Plummer, a former NFL quarterback who walked away from the game in his prime to pursue some of the things he loved. As a side note, Plummer is a side character in sports journalist Stephan Fatsis' book A Few Seconds of Panic, which looks at life in the NFL from a player's perspective. Connections!
For the Love of Being Random
My former college, the University of Minnesota, Morris, is working hard to make itself a green campus. I liked this story about how well that goal is working out, and what some of the challenges to the idea of being green are.
For the Love of My TBR Pile