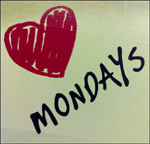 Monday Tally is a weekly link round-up of some of my favorite posts discovered over the week. If you have suggestions for Monday Tally, please e-mail sophisticated [dot] dorkiness [at] gmail [dot] com. Enjoy!
Thinking About Reading
Jackie (Farm Lane Books) made a bold statement last week: "If I had to choose between only reading debut novels for the rest of my life, or eliminating them completely, I would choose the former." Hop on over to her post about loving debut authors and join the discussion — it's a good one.
Holly Root from Waxman Literary Agency wrote a long post about what ARCs are and some of the ways people who get galleys can use them for good. Whether or not you agree with all her points, it's an in formative and thoughtful post.
Thinking About the World
I came across the book Little Princes by Conor Grennan, about an orphanage in war-torn Nepal, and his organization Next Generation Nepal. It looks fascinating.
TED, an organization that publishes free talks from leading thinkers, has introduced TED Books — digital editions of less than 20,000 words about some of the big ideas these speakers cover.
Thinking About Thinking
Mitali Perkins, author of Bamboo People, wrote a post about what life in "the shallows" — an idea from Nicholas Carr's book The Shallows — does for the imagination and a writer's brain. I like her idea of taking one day a week away from screens, but I'm not sure if I could manage that myself!
I hadn't spent much time thinking about commercials that cut out famous dead people then insert them in new commercials, but NPR Monkey See's Linda Holmes had a nice post about the idea that I found intriguing.
Thinking About Memoirs
Lists of books! The New York Public Library put together a list of memoirs and autobiographies of women struggling with depression and other metal disorders. I'm not sure how many of these I'd want to read, but many look very good.
On the other hand, not everyone actually needs to write a memoir, as Neil Genzlinger points out in his New York Times story, "The Problem With Memoirs." The pieces is a bit snarky, but also correct. I like this particular paragraph:
Maybe that's a good rule of thumb: If you didn't feel you were discovering something as you wrote your memoir, don't publish it. Instead hit the delete key, and then go congratulate yourself for having lived a perfectly good, undistinguished life. There's no shame in that.
In response to the whole Tiger Mother conversation, The Awl published a post about Why Minnesota Mothers Are Doing Good. Since I'm the product of a Minnesota Mom, I liked this post, especially the small jokes about Minnesota Nice.
Books for My TBR
National Book Critics Circle announced their finalists for the 2010 book awards. As with every major award that's been announced in the last two months, there are a few books on the list I'd love to read:
The Emperor of All Maladies by Siddhartha Mukherjee
Apollo's Angels: A History of Ballet by Jennifer Homans
The list also features Nothing to Envy by Barbara Demick (which I just finished and loved) and The Warmth of Other Suns by Isabel Wilkerson, which I just reviewed.
And then there are all the other books I found this week that I want to read once the TBR Dare is finally over!
Maps and Legends by Michael Chabon because of this review by Ash (English Major's Junk Food).
Alone Together by Sherry Turkle, which is another book about the impact of technology on social structures, because of this review by Jonah Lehrer in the NY Times Book Review.
The Fates Will Find Their Way by Hannah Pittard because of a bunch of great reviews recently. I can't point to one specifically.