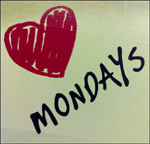 Monday Tally is a weekly link round-up of some of my favorite posts discovered over the week. If you have suggestions for Monday Tally, please e-mail sophisticated [dot] dorkiness [at] gmail [dot] com. Enjoy!
This is my favorite blog post from the entire week: The Suck Fairy, and what happens when she comes to books we love. An explanation,
The Suck Fairy is an artefact [sic] of re-reading. If you read a book for the first time and it sucks, it's nothing to do with her. It just sucks. Some books do. The Suck Fairy comes in when you come back to a book that you liked when you read it before, and on re-reading—well, it sucks. You can say that you have changed, you can hit your forehead dramatically and ask yourself how you could possibly have missed the suckiness the first time—or you can say that the Suck Fairy has been through while the book was sitting on the shelf and inserted the suck. The longer the book has been on the shelf unread, the more time she's had to get into it. The advantage of this is exactly the same as the advantage of thinking of one's once-beloved ex as having been eaten by a zombie, who is now shambling around using the name and body of the former person. It lets one keep one's original love clear of the later betrayals.
Books and Blogging
I thought this post, Best Practices For Bloggers: 9 Tips For Working With Publishers And A Question About Contests, which I thought were helpful.
Joyce Carol Oates' memoir, A Widow's Story, came out this week to a little controversy. I enjoyed this reaction piece from Neiman Storyboard, which looked at death, truth and memoir.
What does it take to make a great American novel into a Great American Novel? The Guardian speculates.
In more blogger love: Book Ninja – No Book is Safe.
If you do not watch the totally hip video book reviewer, Ron Charles, reading this Publishers Weekly profile should be enough to convince you to look him up. Hilarious!
My Friends Write Stuff Too
My friend Katjusa wrote a story about engineers from Georgia Tech who have found way to use rubble from Haiti to make concrete for new buildings.
My friend Mark, the photographer for the photos I included in my post about politics in Wisconsin, wrote part of this story on why Ron Swanson, the libertarian department head from NBC's Parks and Rec, would love Madison. There are so many good things about this story, I don't even know where to begin.
Current Events
In sobering news, it came to light that CBS correspondent Lara Logan was sexually assaulted while covering the riots in Egypt. Some people responded badly, to which I point them to this Salon article: What not to say about Lara Logan.
I didn't get to watch it, but I've been oddly obsessed with Watson, an IBM supercomputer, taking on two Jeopardy! champs. Watson won, and Ken Jennings wrote about the experience challenging a computer on Slate.
You've probably already heard that Borders is closing about 200 stores (here's a full list). There have been a lot of reaction pieces, but one of the most insightful I read came from Salon, which looked at how Borders lost its soul.