This is a weird Sunday Salon post to write, since I actually haven't finished a book since I wrote about The Happiness Project last Sunday. That feels so out of character for me, since I normally finish one or two books in a week.
The biggest reason I haven't finished anything is because I couldn't find the motivation to read the book I started last Sunday — Ugly Beauty: Helena Rubenstein, L'Oréal, and the Blemished History of Looking Good by Ruth Brandon, a book I received for review from Harper.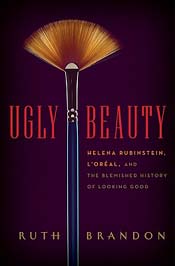 The book started out interestingly enough, with a history of how a poor Polish Jew, Helena Rubenstein, escaped Europe and went on to found one of the world's most successful beauty product empire. At the same time, Eugène Scheuller, a conservative Frenchman, began another beauty business, but used his fortune to buy political power during WWII. He was eventually accused of being a Nazi collaborator, but his business managed to thrive anyway.
I wanted to read this one because of the way Brandon uses the conflict between two major players in the beauty business to look at, "important contemporary questions about standards of beauty and the often murky intersection of individual political aims and the role of business." That sounds interesting, right?
Unfortunately, book just got bogged down for me after a few chapters because it started to focus more on the business of beauty after WWII, with a focus on purchasing and subsidiaries and tax policies and corporate takeover. The book was focusing on the politics of beauty, but politics at a global level rather than a personal level. That's just less interesting to me, although I suppose I should have seen it coming after re-reading the description. After much deliberation — and an investment of 165 of the almost 300 pages — I decided to just let the book go.
That may not seem like a big thing, but I am a compulsive book finisher. I hate investing time into a book and then not giving it a shot until the end because I always believe it's going to get better. But that happens less often with nonfiction than I want to admit. Letting Ugly Beauty go was a good step towards learning to let books go. The book wasn't bad, just not working for me right now.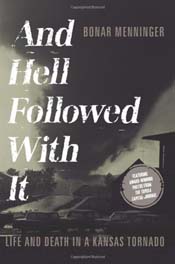 Giving up on that book left me open to read some of the other books on my shelves that I've been anticipating for awhile. Last night I started reading And Hell Followed With It: Life and Death in a Kansas Tornado by journalist Bonar Menninger. I only got through one chapter, but I already am enjoying it. Fingers crossed that it stays good.
The other book I've been thinking about recently is War and Peace by Leo Tolstoy. I rather impulsively decided to join a year-long read-along of this book after Rebecca (The Book Lady's Blog) posted about it a few weeks ago. Reading a Great Russian Novel is on my reading bucket list, and doing a big group reading project helped me get through David Foster Wallace's Infinite Jest a couple of summers ago, so this seems like a way to tackle this particular goal.
I picked up my copy about a week ago and it's been sitting on my desk since. I can't really say I'm "anticipating" reading the book — more anticipating the challenge of getting through a giant chunkster. I'm supposed to be through page 111 by tomorrow, but I'm not sure that's going to happen. First check in and I'm already behind… good start!
In any case, I have to wrap this up because I have a giant list of things to work on today. I've been putting off working on my next books story for the local newspaper, but I'm on deadline today so no more excuses. Happy Sunday, everyone!
Do you have any recently abandoned books, or books you're currently anticipating? What are your big reading plans for this Sunday? Any advice on reading War and Peace?