I have been on the library hold list for Gretchen Rubin's memoir, The Happiness Project, for months. So when the book came into the library a day after Madison was smashed with a giant blizzard, I didn't think twice about trekking through the cold and snow to go pick it up the first chance I got.
I also walked through the bitter cold to a local indie bookstore to pick up the copy of War and Peace they special ordered for me so I could join a War and Peace Read-Along, but that's just because I'm crazy.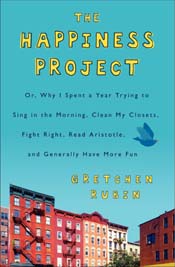 I digress. I picked up The Happiness Project on Thursday, and I've been absorbed in it ever since. The book is about Rubin's year-long quest to find ways to be happier. She notes in the beginning that she wasn't unhappy, nor did she have the luxury to change her life in some drastic way (she has a husband and two young daughters). But what she could do is focus on the little things in life to try and find more joy in every day.
She structured her project bit like Benjamin Franklin's self-improvement project — a series of resolutions put on a big chart, and then checking them off each day if they've been achieved or not. Rubin decided to focus on one part of her life each month, come up with a series of action steps to achieve happiness in that area, and then see if she could achieve her resolutions.
It's sounds a little self-involved, but Rubin does a good job explaining why her happiness translates to making other people happy, why working on happiness in good times can help people cope with tough times, and why just changing little things can have a profound impact on the way an individual can feel about daily life.
It took me longer to read this book than I expected, mostly because I kept getting inspired to tackle some simple, nagging task in my life after Rubin showed why doing something similar made her happier.
My Saturday went something like this: I read a chapter, then I cleared some clutter off my desk. I read another chapter, then took two bags of old clothes out to my car so I'd remember to bring them to Goodwill. I read a chapter, then did all the dishes in my kitchen. Read a chapter, sorted and recycled all the unread magazines cluttering my apartment. Read a chapter, organized our front closet. Read a chapter, took out the garbage. Finished the rest of the book. It took awhile, but I felt doubly accomplished when I finally got through it.
I've wanted to read The Happiness Project for a long time now, not because I'm unhappy, but because it fits with this general trend in my reading of looking for books about different ways to live your life. I've reading about Millennials in the workplace, techniques for unplugging, reasons to eat locally, other women starting careers, and adventures in post-graduation traveling. I haven't loved all the books, but they've each been instructive in their own way.
I got out of school last May after being a student for as long as I can actually remember and now have to figure out what kind of life I want to have, and that feels daunting. I've turned to, really, the only way I know how I understand the world — through books, both fiction and nonfiction, that address my concerns about how I live. The Happiness Project fit right into that theme, and for that reason I enjoyed reading it a lot.
I don't know that everyone would like the book. I can see how Rubin would be a little relentlessly positive, a little too focused on herself, or a little too self-congratulatory about her achievements. But I liked it. I responded to her as an author and believe that simple things like an uncluttered desk or focusing on a positive attitude make certain people happier.
I'm not ready to do my own year-long happiness project just yet, in part because one of the biggest things Rubin realized during her year is that the best way to be happy is to "Be Gretchen" — stop worrying about things that should make her happy, and focus on the things that actually do. I'm not entirely sure what it means to "Be Kim" just yet, but maybe doing a happiness project would help me figure out.
Even if I'm not going to do a full project, I feel good about implementing some of Rubin's happiness strategies. I keep mentioning cutting back clutter, but that's one of the best ideas I got from the book — I know clutter makes me annoyed, so why not just work harder to eliminate it? I also love the idea of a one sentence journal (to make the habit of journaling less intimidating), and thinking about the role money plays in happiness.
I guess all that meadering is to say that The Happiness Project was a great read for me at this moment in my life. I appreciate the wisdom of trying to slowly change my habits in a way that is going to make me happier in the long-term, and I found inspiration in Rubin's story of trying to do just that.
Rating:





Have you ever tried a happiness project, or some other year-long project to change something in your life? What are some of your favorite books that speak to ways of choosing how to live you life? Big plans for the Super Bowl today? That's what I'll be doing tonight!