I am happy to report that I finally got over the reading slump I wrote about last Sunday, and actually finished three books this week:
I have some thoughts on all of them, so they'll be getting their own reviews sometime in the next couple of weeks. I'm only five reviews behind so far this year (four, after I finish this post!), so the wait won't be too long.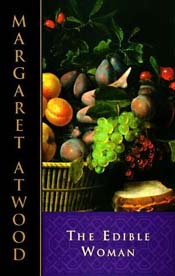 Despite finally getting over my slump, I probably won't get a lot of reading done today. My book club is meeting to discuss The Edible Woman by Margaret Atwood, and then right after that boyfriend and I are heading to our wine tasting group. It should be a fun day, even without a lot of reading.
I'm not sure exactly what to say about The Edible Woman, so I thought maybe blogging about it pre-book club might help clarify my thoughts. The book was written in 1969, and is about a young woman named Marian. Here's the plot summary, from IndieBound:
Ever since her engagement, the strangest thing has been happening to Marian McAlpin: she can't eat. First meat. Then eggs, vegetables, cake, pumpkin seeds–everything! Worse yet, she has the crazy feeling that she's being eaten. Marian ought to feel consumed with passion, but she really just feels…consumed. A brilliant and powerful work rich in irony and metaphor, The Edible Woman is an unforgettable masterpiece by a true master of contemporary literary fiction.
I do know that I loved this book, much in the way that I love everything I've read by Margaret Atwood. I read her books because I enjoy her writing, and because I know there are levels of meaning and going on that I'm not aware or right away. They are books that make me want to think more, which is one of my favorite things about reading.
What I don't know is quite what Atwood was trying to say with the novel, because there is a lot going on! The main character of the book is Marian, who works at a market research firm and has a boring but dependable boyfriend named Peter. She lives in Toronto with her roommate, Ainsley, a sort of nutty feminist, and keeps in contact with a college friend, Clara, who is now a perpetually pregnant housewife.
I think Marian has a sense her life isn't what she wants it to be, but also what she "should" do, so agrees to marry Peter even when I'm not sure she wants to. After this, she goes from being an active, independent girl to being very passive. Peter's personality, which calls for a very traditional sort of lifestyle, starts to take over their relationship as Marian continues to withdraw. This is also when her problems with food start.
I think the book mostly tries to explore the idea of identity — how do characters find one, and how do they protect their identity from being taken over by others? And then, what is the role characters like Peter have in forcing Marian to change her identity, and how does Marian respond? There is also obviously a lot about gender roles, contrasting Marian with the other women in her life, and Marian trying to decide what role she feels comfortable taking in her relationship with Peter.
You know, I feel like I'm just rambling right now. Suffice it to say, The Edible Woman was another great book from Margaret Atwood, full of wry sentences and lots of layers of meaning that I am excited to unpack with the lovely ladies of my book club this afternoon, even if I'm still trying to unpack it myself.
Rating:





What are your plans for Sunday? Thoughts on The Edible Woman or the amazing Margaret Atwood in general? What kinds of books do you love discussing with a book club?

P.S. I finally started reading War and Peace last night. I just got through the introduction and the first chapter, but the challenge with books like that one, for me, is just getting started. Yay!