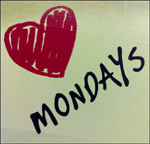 Monday Tally is a weekly link round-up of some of my favorite posts discovered over the week. If you have suggestions for Monday Tally, please e-mail sophisticated [dot] dorkiness [at] gmail [dot] com. Enjoy!
Discover Magazine's Not Exactly Rocket Science blog put together a long list of female science writers, many of whom have some interesting looking pop science nonfiction. Thanks to @BiblioEva for linking to this one.
NPR and ProPublica put together a powerful multimedia package on five soldiers who suffered traumatic brain injuries during the same explosion in Iraq. I haven't gotten through the entire package yet, but the parts I've read and listened to are great journalism.
In her recent review of Elizabeth Gilbert's second memoir, Committed, Raych (books i done read) made a point I really liked about the purpose of travel writing (emphasis mine), which speaks to exactly why I find Bill Bryson so frustrating as a travel writer:
In the end, I'm unsure how to feel about this. Gilbert speaks my language – jovial white girl, casual tourist, occasionally pissed by how The Man is screwing her – but I LIVE with my own voice. I read to live a thousand lives, not to have my own ignorant worldview parrotted back to me.
One of my guilty pleasure television shows for the last couple of years has been ABC Family's Greek, a look at Greek life on a college campus. This show has always been more interesting and engaging than the premise suggests, and I've really liked seeing the characters grow up. After the series finale, which I just got around to watching this weekend, I found a couple of good television critic wrap ups of the show. EW's Pop Watch blog give five reasons they'll miss the show (all reasons I agree with), and EW's Inside TV blog had an interview with the show's creator, Patrick Sean Smith. I loved this explanation of the end of the show (and his explanation of Cappie's name, which means nothing unless you've watched the show):
What I came to in that name was — and what I wanted the end of this to be — was a bit of an anthem for our millennial audience we've been so aware of through the run of the series. Things are rough right now. There are no jobs, but keeping that fighting spirit and say, "We can get through this together" was the thing I really liked in his name. [It] kind of brought that all together for me.
One of the most interesting pieces of bookish news in the last week was about how a self-published author who has made about $1 million selling her books on Amazon, Amanda Hocking, signed a deal with St. Martin's Press. This profile from the Star Tribune is great, and gets at a lot of the interesting questions this deal brings up for both Hocking and publishing in general.
I haven't used Google's new recipe search, but this in-depth article from Food52 points out some of the problems it might have. I'm curious whether Google is planning other topic-specific search engines, and what other challenges might come up.