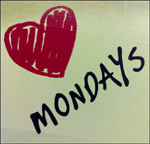 Monday Tally is a weekly link round-up of some of my favorite posts discovered over the week. If you have suggestions for Monday Tally, please e-mail sophisticated [dot] dorkiness [at] gmail [dot] com. Enjoy!
I'm a huge fan of getting into television shows late in their run so I can sit down and watch watch a bunch of it in a row. The Guardian had a fun article about the appeal of watching multi-season tv shows over again from the beginning:
The final page of a novel is planned and meant; the final scene of a TV drama is often accidental and dictated by external events. The rerun screening gives viewers their equivalent of the pleasure that comes from taking a well-thumbed hardback from the shelf and opening at page one.
One of the big challenges that a lot of online newsrooms have is keeping up with monitoring the online comment sections. I like this point in this article from Poynter about fostering conversations is for newspapers:
Many commenters treat news stories like bathroom stalls — transitory outlets for anonymous self-expression while no one's watching. Healthy online communities, on the other hand, can feel very similar to offline communities — your book club, your favorite bar, your office — with familiar faces, in-jokes, and social norms.
That goes along with this Salon article, which argues that we should get rid of anonymous comments altogether.
Nicolas Carr, author of The Shallows, wrote a nice post about the idea of information overload. I like the distinction between situational overload (trying to find a particular piece of information in the vast sea of available information) and ambient overload (the idea that "we're surrounded by so much information that is of immediate interest to us that we feel overwhelmed by the neverending pressure of trying to keep up with it all").
I've never heard of Livescribe before, but after reading this post about digital notetaking I really, really want one of those pens.
I can't remember who linked to this on Twitter (sorry!), but I'm in love with this list of food-related books and movies. There are so many I want to read.
Books for My TBR