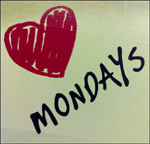 Monday Tally is a weekly link round-up of some of my favorite posts discovered over the week. If you have suggestions for Monday Tally, please e-mail sophisticated [dot] dorkiness [at] gmail [dot] com. Enjoy!
If you read only one link this week, let it be this blog post by Linda Holmes (blogger at Monkey See from NPR) who writes in praise of cultural omnivores — "people who …  'are involved in both 'highbrow' and middle- or lowbrow activities." I won't say much more, just share this quote, which gives you a good sense of the tone and topic (emphasis mine):
This is where the study gets most interesting and the connection to omnivores most intriguing, because it echoes a broader cultural conversation I feel like I've been watching unfold with dismaying — and increasing — unpleasantness. And that conversation raises the possibility that it's not that interest in arts or creativity is declining; it's that there's a wedge between people who enjoy different kinds of culture, and that once again, we are connecting social status and cultural tastes in a way that's bad for the kind of experimentation that makes people omnivores in the first place.
Ted Conover, author of Newjack, is one of the fathers of participatory journalism. His new book, The Routes of Man looks at the role of pavement in an interconnected world. This interview in The Atlantic has a good take on travel writing and the changing genre.
I was having a bad day on Friday, so I asked Twitter for some things to cheer me up. And boy, did people come through with some pretty awesome videos:
The Wisconsin State Journal featured an interview with Meg Hamel, the director of the Wisconsin Film Festival. I liked her response to the question, "What else do you look for in a movie?":
I'm looking for a film that succeeds at what it sets out to do. With any movie, what was it the filmmakers wanted to accomplish and how well do I think they did that? Only in rare instances is a motion picture completed by one or two people, and if there are more people involved there are more variables about whether it succeeded. When I look at a film, I'm also aware of all the different parts that went into it.
And finally, a leprechaun trap cake. Oh man, delicious.
Books for My TBR