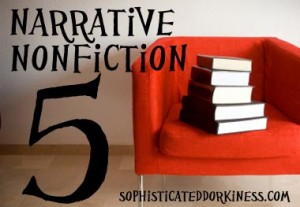 I'm in the middle of reading The Long Goodbye by Meaghan O'Rourke, the story of O'Rourke's experiences after her mother's death from at age 55. While I don't actively seek out memoirs about grief, it seems like they have been a big part of my reading lately.
About a month ago, I read an article in the New York Times where O'Rourke and Joyce Carol Oates discuss why they chose to write about their own losses, and why books about loss can resonate with readers.
Although the article gives a list of books within the "grieving memoirs" category, I'd already started working on this list and it felt a shame to let it go. Grief is an experience that is, I think, tough to talk about. The authors of each of these memoirs — all women, by just coincidence — explore grief in different but, I hope, equally powerful ways.
The Year of Magical Thinking by Joan Didion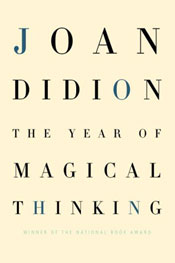 Joan Didion's account of the year after her husband, John Dunne, unexpectedly passed away is the first memoir of loss that I'd ever read. When I picked it up, I was apprehensive — it seemed like it could be too much sadness for me at that point. Yet when I finished, I immediately wanted to read it over again. As I wrote in my review,
I guess my point is to not go into this book thinking that it's going to be easy. It's absolutely worth it — this was a fantastic book — but it can be emotionally difficult to read.
Didion is a powerful, specific, and beautiful writer, and I think The Year of Magical Thinking is not to be missed.
A Widow's Story by Joyce Carol Oates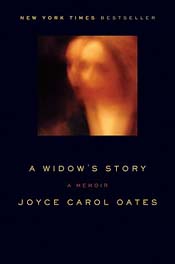 All of the reviews that I've read of A Widow's Story inevitably compare it to The Year of Magical Thinking, probably because both cover the same topic — a wife grieving in the year after her husband's death. Yet as Ron Hogan noted in his review in Shelf Awareness, "The power of this memoir, then, is not in the originality of Oates's experience but in the extent to which she opens her life up to readers."
There's also been some criticism of the fact that Oates does not disclose that 11 months after her husband's death, she was engaged. Readers, most notably Janet Maslin in the New York Times, felt betrayed by that omission of that information. Having not yet read the book I can't necessarily comment, other than to say that Oates is one of my favorite writers and I plan to read this memoir sometime in the future.
Let's Take the Long Way Home by Gail Caldwell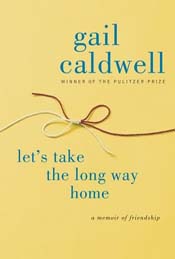 While the subtitle of Let's Take the Long Way Home is "a memoir of friendship," I think Gail Caldwell's memoir about her friendship with author Caroline Knapp fits on this list because, in the end, much of the book focuses on how Caldwell copes with the loss of her best friend and companion.
Caldwell and Knapp met over their dogs, running into each other at a local dog park after a friend suggested they may get along. Over the next several years, the two private, independent writers forged a bond that was pretty remarkable. Throughout, Caldwell's writing is fluid and lovely, and if you don't look for more in memoirs than a good story, this is a great read.
History of a Suicide by Jill Bialosky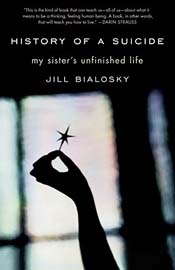 When I read the summary of History of a Suicide, my heart dropped a little bit because it sounds so unspeakably sad. In 1990, Jill Bialosky's younger sister, Kim, came home from a bar, fought with her boyfriend, then committed suicide in the family's garage.
For 20 years, Bialosky has lived with grief from that event. In the book, Bialosky uses her sister's diary, combined with family history and research about suicide, to try and figure out what happened. This book was just released last month, but I hadn't heard of it until I put this list together. It sounds like a fascinating book on a subject that frankly, I've never read much about.
An Exact Replica of a Figment of My Imagination by Elizabeth McCraken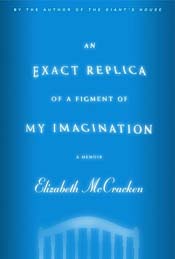 In her 30s, Elizabeth McCracken was a successful novelist, unencumbered and a self-proclaimed spinster. But then she fell in love, got married, and moved to a remote part of France to await the birth of her first child. In the ninth month, McCracken learned that the baby was dead. This memoir is the story of recovering from that loss. I don't know much more about An Exact Replica of a Figment of My Imagination, but it sounds powerful.