I'm back in Minnesota this weekend to help celebrate my dad's birthday. My sister, who goes to grad school in Iowa, is also home, so there's a full house around here. Last night, we went out to dinner, then stayed up late playing a rousing game of Texas Hold 'Em using Easter candy as money. That seems like a good idea, until you remember everyone in my family is stingy about chocolate because we love it so much. Oops.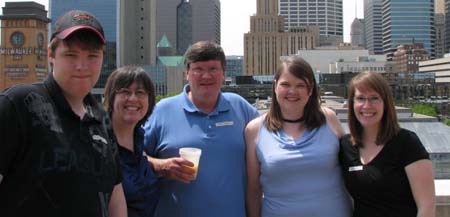 And of course, because I am who I am, I had to check in with all of them about what they're reading now.
Mom, a lover of legal thrillers and mysteries, just recently bought a Nook, so has been busy buying books for that. Right now, she's in the middle of New York: The Novel by Edward Rutherfurd. Earlier this month she finished Sandra Brannan's first mystery novel, In the Belly of Jonah, which she said was gruesome and creepy, but with a little bit of stilted dialogue. Overall, she liked it, and said she is looking forward to the second book, Lot's Return to Sodom. She also just finished reading The Girl With the Dragon Tattoo by Steig Larson, which started out very slow, but picked up to be very good by the end. I think we have plans to watch the movie tomorrow night.
Brother, a 19-year-old avid gamer says the only thing he's been reading is articles in his subscription of PC Gamer. He used to be a big fantasy reader — he's the reason I picked up the Inheritance Cycle (Eragon, Eldest, Brisinger, and TBD) by Christoper Paolini. When he's not killing zombies, he also likes to read Clive Cussler adventure novels.
Dad, an electrical engineer whom I rarely ever see reading isn"t reading anything right now. He says he isn't really a reader, but he does like magazines. Two Christmases ago he was obsessed with watching TV shows about Mount Everest, so I convinced him to read Into Thin Air by Jon Krakuer, which I think he liked.
Sister, a grad student in architecture and lover of chick lit, also just finished The Girl With the Dragon Tattoo, which she borrowed from a friend. She also just started reading New York, as well. Sister is standing over my shoulder as I type this and wants me to emphasize that she is not, in fact, copying Mom's reading choices — "She's copying me, if anything." She is also gloating about the fact that she got 27 out of 32 points in the first round of her NCAA bracket. "This is a big deal!" she keeps telling me.
And Kim (me!), a journalist and book blogger, just finished Blood Work by Holly Tucker, a narrative account of the beginnings of blood transfusion. If I get time today, I'm planning to start either Reality Bites Back: The Troubling Truth about Guilty Pleasure TV by Jennifer L. Pozner or Complications by Atul Gawande. It just sort of depends what my mood is — suggestions?
In fact, any suggestions for the rest of readers (and non-readers) in my life? Have any books that I can suggest to push them out of their comfort zones that they'll also like?