Tomorrow is Dewey's 24-Hour Read-a-Thon, and I've been excited about this for weeks. I decided to read only my own books tomorrow even though I have a loooong list of review books for April that I am making almost no progress on. I want to just be able to relax and not have to think to much about taking notes or what I might say reviewing the books. Plus, I have a lot of books on my shelf that I'm anxious to get to, and this seems like a good excuse.
Since I'm at home in Madison for this Read-a-Thon, I had the luxury of putting together two truly absurd piles of books for consideration. This first pile is all of the fiction and nonfiction I'm thinking about, and the second is the pile of graphic novels I checked out from the library this week.
Fiction, Nonfiction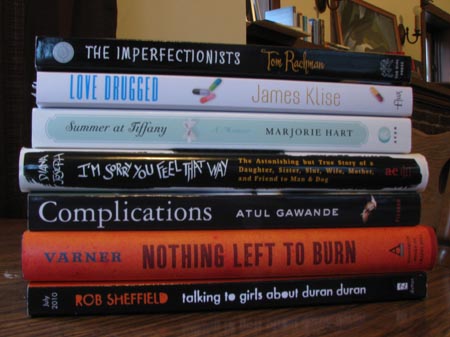 Graphic Novels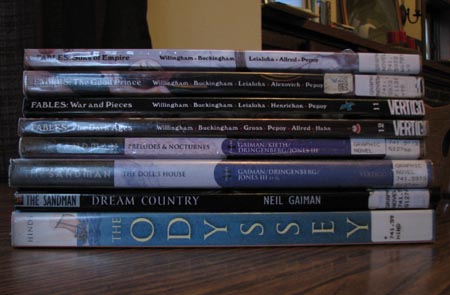 I snagged a bunch of Fables collected paperbacks from the library: Sons of Empire (#9), The Good Prince (#10), War and Pieces (#11), and The Dark Ages (#12). I think I've read #9 before, but ended up losing track of the series sometime last year and want to get back into it. I think these will be my very, very late night reads.
I also reserved the first three collections of Neil Gaiman's The Sandman — Preludes and Nocturnes, The Doll's House, and Dream Country. NPR's MonkeySee blog is doing a read-a-long of Dream Country, and I didn't want to pick that one up without trying the first two. I'm sort of OCD in that way. I'm not sure I'll get to these, but they're here.
And the last one — possibly the one I'm most excited about — is a graphic novel version of The Odyssey, which Vasilly (1330v) mentioned on her blog a few weeks ago. Since I actually read Homer's The Odyssey last year, I thought the graphic novel would be fun.
Other Excitement
The snacks! I went to the grocery store this week and got some of my favorite foods (and some healthy stuff too) — strawberries, Craisins, Wheat Thins, cheese, cheddar rice cakes, bananas, broccoli, pizza, chocolate, and tea. I am well-stocked. Plus, my good friend Erin might be come over for part of the day to do her own Homework-a-Thon while I'm reading.
So that's my plan so far. Are you excited about the Read-a-Thon tomorrow? What are your big plans?