In the wake of Borders closing down more than 200 stores, there have been a lot of posts of the piles of books people have have snagged during the sales. As much as I like seeing new book stacks and chiming in with which ones I'm most excited about, actually posting my own book piles seemed to depressing, like kicking a kid while they're down.
Steph (Steph & Tony Investigate) posted about her Borders books earlier this week, and was one of the few posts I remember reading that acknowledged just how depressing and sad a bookstore closing can be. When I commented about my discomfort celebrating book buying at a store closing, she smartly responded,
@ Kim: I think you should post about your loot! It's sad that Borders is doing so badly, and that many other bookstores are suffering the same fate, but books are meant to be celebrated… I hope that my book-buying posts inspire others to head out and buy books too!
I like that sentiment a lot — books should be celebrated, and we should share what we love to inspire other people too. In that spirit, here are a few of the books that I've recently laid down my hard-earned cash for:
A Room of One's Own Books
Room is one of my local bookstores (I've written about them before). I've been making a point to order at least a book a month from them, and this is what I picked up a few weeks ago.
The Soul of a New Machine by Tracy Kidder — part of my Day Zero Project is to read all of Tracy Kidder's books, and this is his first one. I've never seen this in a mainstream bookstore, so I had Room order me a copy one from the publisher. How awesome is that?
Bring on the Books for Everybody by Jim Collins — I was just browsing around, killing time instead of waiting in line, and I saw this book in the Reading/Writing section. I like literature and I like cultural studies (and the book is about the rise of reading as a social activity — hello, this book blog!) so I bought it on impulse.
Borders Closing, Trip 1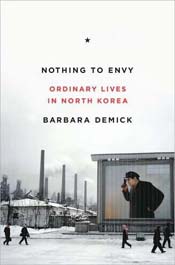 I took my first trip to Borders about two weeks after they announced the closings. I was going mostly looking for copies of books I'd read and loved that I didn't have copies of already, either because they were from the library, borrowed, or I had an ARC. Here's what I found:
Nothing to Envy by Barbara Demick — I loved this book when I read it, but didn't have a copy myself. It was an easy grab.
Into the Wild by Jon Krakauer — I first read this when I borrowed it from a friend and loved it. I was to read all of Jon Krakauer, so another easy grab.
In the Sanctuary of Outcasts by Neil White — I'd wanted to read this for awhile which is why I picked it up, but ended up being a bit disappointed.
The Big Short by Michael Lewis — This book has been commended as a great look at the financial crisis, which I do want to spend time learning about.
The Better Homes and Gardens Cookbook — I have always wanted one of those good, general interest cookbooks. You know, the kind that's got everything from chocolate cake to quiche in it. There were quite a few copies of this one left, but I'm glad I snagged it.
Borders Closing, Trip 2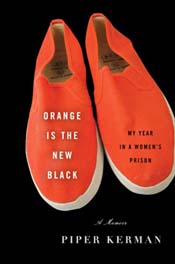 I took my second trip to Borders 10 days before the store was officially closing. Actually, I think the last day is actually today, which is sad. But, celebrating books! Here's what I grabbed:
Orange is the New Black by Piper Kerman — I've read some good reviews of this memoir, so I was excited to find a copy.
The Price of Motherhood by Ann Crittenden — This was an impulse grab from the gender studies section.
How to Buy a Love of Reading by Tanya Egan Gibson — This was a total impulse grab from the fiction section. The title seemed familiar; anyone have reviews of it?
The Things I've Been Silent About by Azar Nafisi — I loved Reading Lolita in Tehran, so wanted to read Nafisi's next book.
Poison Penmanship: The Gentle Art of Muckraking by Jessica Mitford and Jane Smiley.
The Unnamed by Joshua Ferris — I grabbed this one because I enjoyed Ferris' first book, Then We Came to the End, and have wanted to read this one. I found it on audio for $10, which, given how much I drive to Minnesota in the summer, seemed like an excellent buy.
Blur: How to Know What's True in an Age of Information Overload by Bill Kovach and Tom Rosenstiel — I enjoyed an earlier Kovach and Rostenstiel book on journalism, The Elements of Journalism, and suspect blur will be a well-balanced and thoughtful look at the struggle for finding accurate information in a new information age. Plus, I want to read more journalism theory, and I'm confident this will be good.