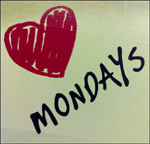 Monday Tally is a weekly link round-up of some of my favorite posts discovered over the week. If you have suggestions for Monday Tally, please e-mail sophisticated [dot] dorkiness [at] gmail [dot] com. Enjoy!
This graphic from Discover's Not Exactly Rocket Science blog is the best summary of the writing process that I've never seen. Go look at it, right now.
Flavorwire offered 10 food and literature pairings, including spaghetti with Infinite Jest by David Foster Wallace and chocolate chip cookies with Revolutionary Road by Richard Yates.
I appreciated this smart-ass look at 50 books you "must" read before you die from The Telegraph.
The Atlantic published a Q&A with Holly Tucker, author of Blood Work, about what history teaches us about blood, stem cells, and fear. I posted my own review of Blood Work this week — read it!
This New York Times story about how a postcard between friends was delivered 25 years late was a nice human interest story.
The biggest piece of train-wreck news from the last week was (another) online meltdown from an author unhappy with a review. While I don't want to just kick a person while they're down, as this particular author most certainly is, I do want to point out this thoughtful discussion of the response from The Guardian (which also links to the original review, should you need to witness the meltdown yourself). After summing up the incident, and putting it in context of other author/reviewer behaving badly incidents, the writers notes,
Reviewing's a tough business, and reading reviews of your own work is even tougher. But the traditional line in the sand between a print reviewer and an author – which necessitates taking time to sit down and pen a response, time during which the author will generally come to their senses and decide to take the criticism on the chin – have been wiped out by the internet's immediacy. Howett won't be the last to respond – and she certainly isn't the first.
I hadn't heard of "graphic journalism," but I like this discussion of the genre nonetheless.
I used to love historical fiction author Margaret George, and I just learned this week she lives in Madison and has a new book out, Elizabeth I.
I read and loved Jennifer Egan's A Visit From the Goon Squad last year, so enjoyed this Q&A with her about her National Book Award, writing the book, and the challenges of using Powerpoint.
Books for My TBR