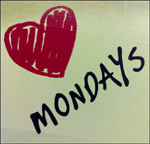 Monday Tally is a weekly link round-up of some of my favorite posts discovered over the week. If you have suggestions for Monday Tally, please e-mail sophisticated [dot] dorkiness [at] gmail [dot] com. Enjoy!
Although the title of this post might seem a bit teasing, I'm actually pretty excited about finding this story. A recent study from the University at Buffalo shows that reading does expand our idea of ourselves and can make us feel like we're not alone. As the article explains:
"Obviously, you can't hold a book's hand, and a book isn't going to dry your tears when you're sad," says University at Buffalo, SUNY psychologist Shira Gabriel. Yet we feel human connection, without real relationships, through reading. "Something else important must be happening."

In an upcoming study in Psychological Science, a journal of the Association for Psychological Science, Gabriel and graduate student Ariana Young show what that something is: When we read, we psychologically become part of the community described in the narrative—be they wizards or vampires. That mechanism satisfies the deeply human, evolutionarily crucial, need for belonging.
Isabel Wilkerson, author of The Warmth of Other Suns did an interview with Nieman Storyboard, one of my favorite blogs about journalism and narrative nonfiction, about some of the process of writing her book.
Natalie (Book, Line, and Sinker) wrote a great post – Book Reviews or Book Reports: Which are you writing? – about how she taught her students about reports and reviews. What I liked most about it was how well her advice can be applied to reviewers of all ages!
It's hard not to click on an article titled "Are Run-On Subtitles Literature's New Flop Sweat?" isn't it? In the piece for The Millions, Bill Morris writes about the tendency in nonfiction to write staggeringly long – and often ungrammatical – subtitles. I confess that I love a great, long subtitle, but his point is well-taken.
One of my favorite humor blogs is Catalog Living. If you appreciate the site, check out this list of top 10 food trends with the author, Molly Erdman.
And just one more. Friday Night Lights is one of my favorite television shows, so I will always link to articles that give it enormous praise. I especially enjoyed this one from The Millions for making this point:
If you're like me, if you approach TV-watching like monogamous love affairs – with books as priority, I want my TV to be good, I want it to be meaningful, and I want to commit – then give FNL a shot. Because what you also want is for your TV shows to offer something literary books sometimes don't: a (passive) emotional ride driving an (active) soul-level engagement. FNL strikes this combination brilliantly. It's TV for sure, and network TV; it might take you a few episodes to adjust, to get used to all the busty women and their half-naked outfits (I almost quit out of cleavage overload), to remember that this is high school in a dead-end town and that boys and girls verbalize how much they love each other pretty much hourly and make bad decisions even more frequently. But the creators of FNL have successfully shown me that this is a place and a group of people worth getting to know. If small-town West Texas is a place you might otherwise consider nowhere of consequence … FNL will change your mind, and I dare say your eyes and heart as well. In the immortal words of Coach Taylor (say it with a twang), "I promise you that."
Books for My TBR
The New Yorker's books blog, The Book Bench, asked Gayle Tzemach Lemmon, author of The Dressmaker of Khair Khana what she was reading. I've subsequently added both books to my TBR:
Factory Girls by Leslie T. Chang, about young women in modern china.
The Widow Clicquot by Tilar J. Mazzeo, a women who took over her husband's failing champagne business.
I can't remember how I found this list, but I am in love with the Williamsburg Regional Library for putting together such a strong collection of narrative nonfiction writers, including their typical subjects and style. A couple books I added to my wishlists were: