I've been in some sort of funk the last couple of weeks. I mostly blame it on the weather — we had a few nice days, and then Mother Nature decided to smack everyone in the face with a sleeting/raining/snow storm on April 19 that caused my car to get stuck. In April! I was not at all pleased. But even with that, it's just been an out-of-sorts week or two, so earlier this week I was looking for a book to pull me out of the funk.
I had a lot of options, but I ended up grabbing a copy of Erin Blakemore's The Heroine's Bookshelf, which I've had on my shelves for awhile now. A book about literary heroines seemed like the kind of book that could potentially cheer me up.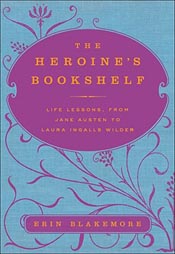 In The Heroine's Bookshelf, Blakemore takes a look at some of the most well-loved female protagonists in literature as well as the authors who created them to explore some of the qualities we associate with today's heroines:
Self — Lizzie Bennet in Pride and Prejudice by Jane Austen
Faith — Janie Crawford in Their Eyes Were Watching God by Zora Neale Hurston
Happiness — Anne Shirley in Anne of Green Gables by Lucy Maud Montgomery
Dignity — Celie in The Color Purple by Alice Walker
Family Ties — Francie Nolan in A Tree Grows in Brooklyn by Betty Smith
Indulgence — Claudine in Colette's Claudine novels
Fight — Scarlett O'Hara in Gone With the Wind by Margaret Mitchell
Compassion — Scout Finsh in To Kill a Mockingbird by Harper Lee
Simplicity — Laura Ingalls in The Long Winter by Laura Ingalls Wilder
Steadfastness — Jane Eyre in Jane Eyre by Charlotte Brontë
Ambition — Jo March in Little Women by Louisa May Alcott
Magic — Mary Lennox in The Secret Garden by Frances Hodgson Burnett
I'm not sure the book pulled me out my my funk, but it was a comforting read in that it reminded me of why I turn to books in times when the world seems off-kilter. As Blakemore writes in the introduction,
Call me a coward if you will, but when the line between duty and sanity blurs, you can usually fine me curled up with a battered book, reading as if my mental health depended on it. And it does, for inside the books I love I find food, respite, escape, and perspective. …

I'm here to posit that it's exactly in these moments of struggle and stress that we need books the most. There's something in the pause to read that's soothing in and of itself. A moment with a book is basic self-care, the kind of skill you pass along to your children as you would a security blanket or a churchgoing habit.
My favorite chapters were, I think predictably, the ones for books I was already familiar with. I liked reading Blakemore's interpretation of books I already knew, re-framing the characters and the author with a particular virtue I may not have thought about on my first reading. I hadn't necessarily thought about Scout Finch as an example of compassion, or even Jane Eyre as a model of steadfastness, even though it's clear how important those virtues are.
But honestly, the book made me more curious to read biographies of the authors Blakemore wrote about than it did to read (or reread) the books she was writing about. I loved the connections she drew between the biographies of the authors and the characters they wrote about. While it's always a tricky proposition to force an author's biography or personality onto a fictional character, I thought Blakemore's interpretations were pretty convincing, and interesting enough that I wanted to learn more myself.
One of the things on my Day Zero Project list is to read a "book on books" and then read five of the books mentioned it. I decided to make two lists of books to choose from — one of the fiction I want to read or reread from the books, and another of nonfiction — biographies, literary criticism, whatever — about the books and authors in The Heroine's Bookshelf. Here's what I have so far, with the contents subject to change at my choosing:
Fiction
Nonfiction
I'm just going to end with another one of my favorite quotes from the book, which I couldn't find a place to include in the review anywhere but thought was a beautiful sentiment:
As adults in a grown-up world, we can choose to see what is in front of us or what could be all around us. We can ask what our favorite author would do, what would make the little girls we once were prouder, bigger, better. … Bolstered by the stories and the strengths of women real and fictitious, we can being a child's eyes to the sight of the impossible. We can expect to see magic. Heroines and women all, we just might make some of our own.
Rating:





P.S. If you're curious about how my Day Zero project is going, you can read about how I wrote a letter to myself, went to a symphony, attended a wine tasting, made risotto and quiche, and completed the Read-a-Thon.  I'm at 6/101 completed and another eight in progress — so far, so good!