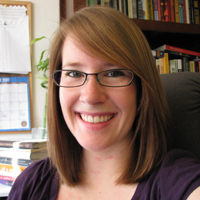 Hello to everyone stopping by from BEA and the Book Blogger Convention! If all is going well, when this post goes up I'll be on my way to the airport. I'm putting this up as a quick introduction of myself if we didn't get to chat long when we met, and because I forgot to include a photo of me in my last BEA-related missive.
This is also a sticky post — for new content (hopefully from BEA) just scroll down to the next post. If you're curious about my plans for BEA, check out this post or just send me a message on Twitter — @kimthedork.
About Sophisticated Dorkiness
Sadly, I'm not really the South Park character on my business card and blog header. I'm just a regular girl blogging about books. I've been writing here at Sophisticated Dorkiness for just over three years.
By day I work as a trade journalist for a magazine based in Madison, and by night I'm an avid reader, blogger, and freelance journalist, where I write a monthly books column and reviews for a local newspaper.
I primarily read and review nonfiction, narrative nonfiction, and literary fiction, although I delve into other genres like YA fiction and comic books when the mood strikes — check out my Review Policy for more information.
That's all I've got. Can't wait to be in NYC, so if you see me, say "Hello!"
UPDATED TO ADD: I have been blogging from BEA just a little bit. You can read about my first couple of days in New York, and a look at some of the books I just mailed home.