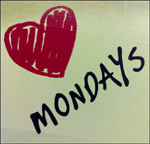 Monday Tally is a weekly link round-up of some of my favorite posts discovered over the week. If you have suggestions for Monday Tally, please e-mail sophisticated [dot] dorkiness [at] gmail [dot] com. Enjoy!
I'm going to be experimenting with some changes to Monday Tally over the next couple months to see if I can find a way to make the post easier to put together and less time-consuming for everyone to read.
Last week I started playing around with Tumblr, which is a short-form blogging platform — somewhere between Twitter and a full-length blog. Tumblr has different post formats that make it easy to just throw up a picture, video, link, or text into a short post. So far, I really like it as a way to collect links and comment on them as I find them. You can find my Tumblr, A Little Bit of Dorkiness, at http://kimthedork.tumblr.com/.
I want to keep doing Monday Tally, so my plan is to use this Monday post to highlight three or four of my favorite links from Tumblr over the last week, with a little bit more commentary than I used to include. If you want more of the goofy links I tend to find, they'll be over on Tumblr to check out. Please let me know what you think of the change, and I'll tweaking with everything.
And now, the links!
Mike Matas, co-founder of Push Pop Press, offers a demo of a full-length interactive book.
It looks very cool, but I wonder if settling in to read something that busy would actually be relaxing? One of the things I love about a physical book is that there's nothing linked from the page to pull out and distract me. However, one person pointed out that this type of book might be great for nonfiction (which is what the example book is), where you could pull out extra content that rounds out a topic. Thoughts?
I maintain that NBC Nightly News anchor Brian Williams is a lot funnier than he gets credit for, and I finally found an article that validates my opinion! If you've enjoyed any of Williams' appearances on 30 Rock or The Daily Show or other outlets, this is a must-read. A teaser:
Williams has too much respect for that role to ever turn his newscast into a variety show, and he continues to maintain a strict separation between his journalism and his comedy. …

Still, if you're looking for it, you can occasionally see a glimmer during the Nightly News of that other Williams we've come to know. Over the winter, in one of the feel-good segments that round out the newscast, Williams highlighted the story of the Caltech men's basketball team, which had just won its first conference game since the Reagan era. "There's no turning back for the Division 3 Caltech Beavers," Williams deadpanned. "The Beavers are on fire." A few days later, a segment looked into how the impending government ban on certain incandescent lightbulbs will affect Hasbro's bulb-operated Easy Bake Oven, in which generations of children have prepared what Williams described as "highly questionable cakes and brownies." These are not moments of high hilarity—this is not the meta-comedy of 30 Rock or the frenetic humor of SNL—but in a sense, they might be the best evidence of all for Williams's comic capabilities. He's found a way to inject a touch of levity into the lately all-too-depressing business of delivering the news, to elicit a smile without giving up his gravitas. That's how finely tuned his comic instrument is.
My personal favorite Brian Will.i.ams moment has to be "Slow Jammin' the News" of the Wisconsin protests.
This is a little bit of self-promotion. My review of The Wilder Life by Wendy McClure was published online last week. In general, I enjoyed McClure's memoir about exploring the world of the Little House series by Laura Ingalls Wilder. Her writing style was conversational, her "Little House lifestyle experiments" to "live La Vida Laura" were funny, and the research she did separating fact and fiction was truly fascinating.
There have been quite a few book blogger reviews of this book recently, which I also urge you to check out:
Regular Rumination (I especially like Lu's discussion of the combination of nonfiction and memoir in the book, which I totally agree with but didn't find a way to incorporate into my own review)
Anyone else? Let me know and I'll add a link!
McClure will be in Madison this Tuesday night (May 10, 7 p.m. at Barnes & Noble, 7433 Mineral Point Road). Unfortunately, I won't be able to go, but if you're a Madison person I have no doubt she'll be a fun speaker to see.
Thoughts on the changes to Monday Tally? Links I posted on Tumblr that you wish I'd highlighted here instead?