Do you ever have weeks where it feels like everything that could possibly happen all happens at the same time and it seems like you can't even find time to think? That was the last couple of weeks for me.
This general sense of life busyness started 11 days ago. In that time I've worked full time, plus… played two soccer games, gone to one birthday party, driven to and from Minnesota twice (for a total of about 18 hours in the car), gone to dinner, took a sick day, volunteered, went to an author event, went to my book club, visited all of my grandparents, visited a friend's family in the hospital, and attended a funeral. I also wrote two freelance stories and a guest post and read two books.
I also got it in my head that I could accomplish more if I just slept less, which worked exactly as well as you might expect it would. I need my sleep.
So… it's been a long 11 days.
I got back from my second trip to Minnesota last night around midnight, then got up early this morning to finish a second freelance story. Now that the piece is finally mailed, I can take a little breath. And blog. And read, I hope!
Over the last week I tried to read Ted Conover's new book, The Routes of Man: How Roads Are Changing the World and the Way We Live Today, but I was having a hard time getting into it right away. As you might expect, roads are initially glamorous so I suspect the book takes a bit of time to really get going. I'm going to give it another try, just not when my brain is so loopy on busyness.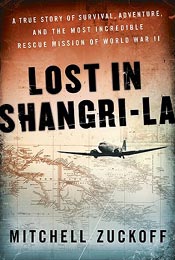 After abandoning The Routes of Man, I picked up Lost in Shangri-La: A True Story of Survival, Adventure, and the Most Incredible Rescue Mission of World War II by Mitchell Zuckoff, which starts off very exciting, with a plane crash in the Amazon and one of the best opening teasers I've ever read:
Near the end of World War II, a U.S. Army plane flying over the island of New Guinea crashed in an uncharted region inhabited by a prehistoric tribe.

In the weeks that followed, reporters raced to cover a tale of survival, loss, anthropology, discovery, heroism, friendship, and a near-impossible rescue mission. Their stories features a beautiful, headstrong corporal and a strapping, hell-bend paratrooper, stranded amid bone-through-the-nose tribesman reputed to be headhunters and cannibals. They told of a brave lieutenant grieving the death of his twin brother; a wry sergeant with a terrible head wound; and a team if Filipino-American soldiers who volunteered to confront the natives despite knowing they's be outnumbered more than a thousand to one. Rounding out the true-life cast were a rogue filmmaker who'd left Hollywood after being exposed as a jewel thief; a smart-aleck pilot who flew best when his plane had no engine; and a cowboy colonel whose rescue plan seemed designed to increase the death toll.
I'm only six chapters in, but so far the book lives up to all the nuttiness promised in the beginning. I cannot wait to get back into the book sometime today and to spend a relaxing Sunday getting caught up with life. But first, I think a need a nap!
What books are you diving into this Sunday? Have you wished your mom a "Happy Mother's Day!"?