I'm the kind of person that writes everything down. I have a ratty little notebook and a pen that comes with me everywhere. I carried it around BEA, and took a bunch of notes about things I just didn't know before I got there. These notes helped me form some ideas about what I might do next year to make BEA even more fun for me.
I also finally managed to get the few photos I took online, so I want to share some of those with you since pictures — especially of something as huge as BEA — are worth just as much as any words I can come up with. (You can see the rest of my photos on Flickr).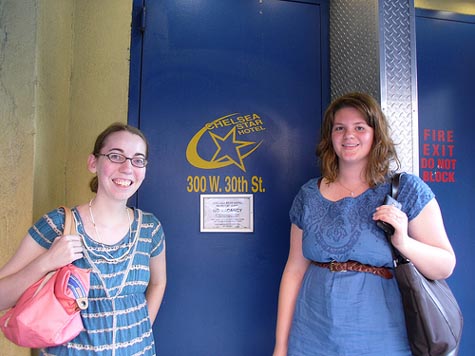 Anastasia and Ash in front of our hostel, the Chelsea Star Hotel.
This year… I registered as a blogger through the Book Blogger Convention.
Next year… I will try to register as press. When I went to the press area at BEA, I found out that bloggers don't have access to the press room – and can't register as press at the event. I also didn't bring any evidence that I work as a freelancer writing about books, so was not able to have access to that area. I'm not sure what mythical perks exist in the press room, but I want to find out!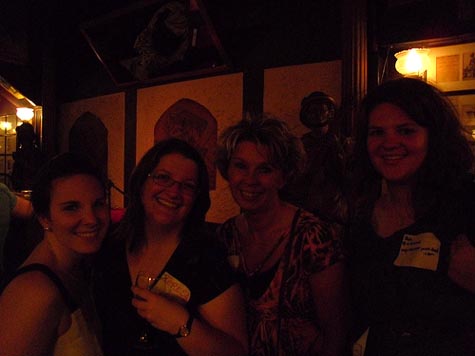 Reagan, Teresa, Sheila, and Ash at the Harper Collins Celebration of Book Bloggers.
This year… I planned to do my calendar entirely on my amazing new smart phone.
Next year… I will print out a copy of my schedule ahead of time. On my first day of BEA, I practically ran through my entire battery trying to see the list of things I wanted to attend and trying to add more signings. I know print outs are old-school, but having a written list would have really helped me. I will also make sure to write down all of the location information for events – I got lost a couple of times because I didn't have enough information. Javits also has the amazing ability to eat the Internet, so counting on the BEA Mobile app for information is not a good idea.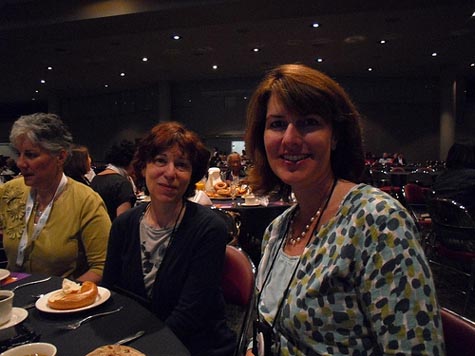 Candace and Dawn at the Thursday morning author breakfast where we saw Jim Lehrer, Roger Ebert, Ann Enright, and Erik Larson.
This year… I didn't make a plan for which publishers I wanted to go see.
Next year… I will go through my recently-reviewed books to check the publishers so I have some good talking points to start conversations at various booths. I think this will help me meander less around the show floor, too.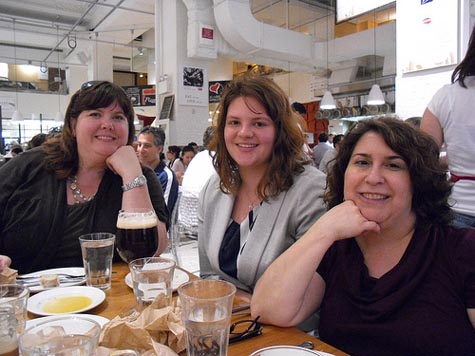 Colleen, Ash, and Florinda at Etaly for dinner on Friday night.
This year… I tried to break in a pair of shoes the week before BEA.
Next year… I will take care of my feet pre-BEA so they are well-rested and in good shape for all the walking.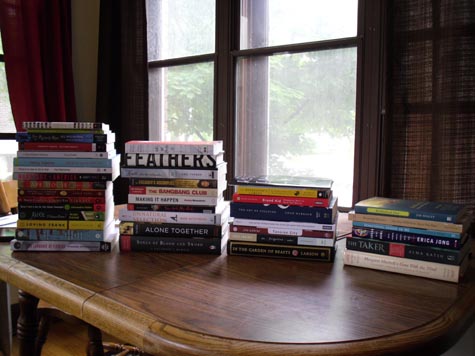 My 38 books and two sample chapters from BEA. Where am I going to put all of these??
This year… I had no plans for restaurants to go to.
Next year… I'll actually do some research so I know some places to eat around the city when I head out to dinner with other bloggers.
Despite all of these lessons, overall I'd say I had a great BEA. I grabbed many great books, made connections at some publishers that put out quality nonfiction, and met many, many of my favorite bloggers in person.
BEA isn't an event for everyone – it's a trade show for the publishing industry, and it takes awhile to get acclimated to the huge show floor and all of the people wandering around. But if you give it some time and are the kind of blogger that wants to review new books and connect with readers and publishers, it's worth the effort.
I'll have one more update about notes from BEA, and then the blog will be back to regularly scheduled programming 🙂