You may have noticed that June was a pretty busy month here around the blog. At the beginning of the month I privately challenged myself to post every day, and I'm really proud to say that I did it! Obviously, posting every day isn't my normal routine; I'm more of a three to five times a week sort of blogger because that has worked for me. But May was a sort of a slump — I didn't read or blog as much as I normally do, and I felt like I needed a challenge to get me back on track.
I'm really happy to say that I think the challenge worked. I'm feel more inspired about the blog, and I think I picked up a few good practices I can incorporate when I shift back to blogging slightly less frequently. I think I can sum up what I learned in six lessons:
1. It's hard to write long posts all the time. I'm damn wordy, but if you're going to blog every day sometimes you need to lighten up a little bit. I liked starting my Off the Stacks feature this month because it gave me consistent, interesting, and short content to post once a week. I hope other people thought it was interesting anyway!
2. Editing can suffer if you're writing too much. I felt like many of the posts I wrote this month didn't quite get the heavy editing and re-writing I like to do because I was busy coming up with other content or responding to comments. In the future, it will be nice to post a little less and have more time to focus on quality.
3. Community interaction can be put on the back burner, which isn't good. I have a normal blogging practice of trying to comment on every blog that leaves a comment here. That means if a post gets 16 comments, I have to write 32 — respond to each one here, plus leave a comment somewhere else. When I was trying to write and edit posts for every single day, I sometimes had to skip that second outreach step, and I was a little disappointed in myself because of it.
4. Organization is key. When I planned to blog every day, I had to really organize myself. I had a list of posts for each week and checked them off as they were written and edited. I liked feeling organized like that, a little less "seat of my pants" than blogging has been recently. It's a practice I'm going to try to continue.
5. Keep things fun, experiment with your writing. Blogging every day means you have to keep things interesting for yourself and try new things. For me, that meant playing with my reviews a little more. Instead of doing a straight review of Tolostoy In the Purple Chair, I turned my thoughts on the book into a discussion post. I got a lot of great comments, and many people said they were curious about reading the book even though they hadn't considered it before. That's a much better response than some of my "standard" reviews, which I really liked.
6. Write when the mood strikes. If you have an idea for a blog post, get a piece of paper or open up Google Docs and get some ideas down right away. Even just a rough sketch of your thoughts will help later when you go to flesh out the idea. Trying to force posts when I wasn't in the mood to write was torture, so writing them when the creative juices were flowing was a big help.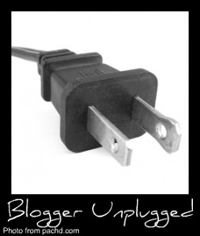 And with that final note, I am officially unplugged! I don't technically leave for the lake until tomorrow, but I'm starting my blogging break early. I still have comments to catch up on, but I won't have a new post up until next Tuesday. Have a fabulous 4th of July, everyone who celebrates!