For this month my Madison-area book club decided to do a book and movie night centered around Tom Perrotta's 1998 book Election, which was made into a film starring Matthew Broderick and Reese Witherspoon in 1999. I'd seen the movie at least once before, but honestly couldn't remember much (anything, really) about it, so I think I went into the book without many expectations. And sadly, I wasn't especially impressed with the book. I didn't dislike it, but I wasn't in love with it either.
Election is the story of a high school student council election. Tracy Flick, the favorite, is a consummate over-achiever with a bit of a dark side — she recently was involved in a sexual relationship with a teacher for which he lost his job. Mr. M. is a high school civics teacher and in charge of running the elections. Because he dislikes Tracy, Mr. M. convinces Paul, an affable football player, to run in the election as well. And to spice things up, Paul's sophomore sister Tracy, as a way to get revenge, decides to run as well.
The book uses multiple narrators, which is one of my favorite narrative techniques. Unfortunately, I didn't think it was executed well in the book. If a book is going to use multiple narrators — and switch between them frequently — I really need them to sound different. I need to be able to identify who is telling me a story from the prose, not just from a label saying the point of view changed. I struggled with Election because everyone sounded the same. Most other people in the club agreed with me on this point, but one person said she never had any problems. I guess take that critique for what you will.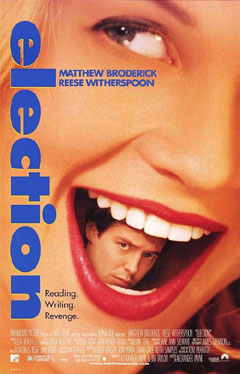 This was one of the situations when I liked the movie a bit better than the book. Election the book is very short, meaning many of the characters aren't especially drawn out. While they don't get much less one-sided in the movie, it doesn't seem to matter as much — the movie seems to pull out the satire out more. The movie also focuses a bit; Mr. M. seems to be the central character, so we get more about him while the students, especially Paul, remain pretty simplistic.
The acting in the movie is stellar. Witherspoon's portrayal of Tracy is just hilarious — her physicality really captures Tracy's drive. However, the movie makes Tracy much less aggressive than she is in the book, which I think forces more of the attention on Mr. M. and his moral quandaries.
Chris Klein as Paul is just delightfully dopey — his best campaign slogan is "Paul Metzler! You Betz-Ler!" which makes me giggle every time. And Jessica Campbell as the underdog candidate Tammy is just adorable and sweet; it's clear why she's doing what she's doing as the movie progresses. And of course Broderick, who manages to make Mr. M. both sympathetic and also supremely sleezy.
Overall, just a great, funny movie, and one that eclipses the book, which feels a little bit too short to really have done the characters and story justice.