The wait is almost over! BookClubSandwich, the online book club I host with Andi (Estella's Revenge) will be discussing The Kitchen Daughter by Jael McHenry exactly one month from today.
I haven't started the book yet, but that's because it's on my Nook and Crusoe (the name of my Nook) is currently en route to Qatar with my friend Erin, who is traveling to an international science journalism convention. When Erin and I hung out on Thursday, she told me she didn't have any books packed for her extremely long flights, so I offered for her to take Crusoe, which is loaded with books (including this one!). By the time Crusoe gets back, he will be more of an international traveler than me! But maybe that's appropriate, given his namesake.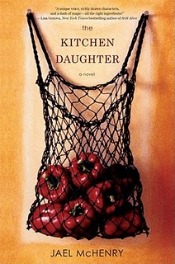 If you're still not sure about joining BookClubSandwich for this discussion, here are a few links I hope will help whet your appetite:
I hope you'll join us for our discussion!