As I sat down to start writing my review for today, I realized I have a bunch of books in the queue that I just don't have a lot to say about. They all happen to be fiction, which is probably because I'm out of practice writing fiction reviews. I also didn't take take any notes on these books, which made writing long reviews impossible.
I kept all of these to two paragraphs (super short for me!), so if you have more specific questions about any of the books, leave them in the comments and I'll answer them as soon as I can.
The Housekeeper and the Professor by Yoko Ogawa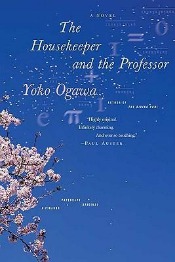 In The Housekeeper and the Professor a young woman accepts a job working as a housekeeper for a brilliant math professor with a difficult problem — he only has 80 minutes of short-term memory (like a tape that rewinds every 80 minutes, his sister-in-law explains), meaning the two re-meet each other every morning when the Housekeeper arrives. After a time, the housekeeper brings her son, whom the Professor nicknames "Root," to the Professor's home each day, forming a small family. Although he cannot remember the present, the Professor's mind is still full of numbers, and it's through his love of elegant equations that the three really connect with each other.
I checked out this book from the library as part of my "palate cleansing" after Twitter recommendations from Rebecca, Amanda, and Sue. At a slim 180 pages, I was able to start and finish in the book in a single car ride. It was the perfect book to immerse myself into for a time, with a unique challenge for the characters, beautiful writing, and a story that emphasized themes of family and finding connections (mathematical or personal) between unlikely pieces. I really liked this one (despite all the math, which I'm normally not a fan of), and would recommend it.
Rating:





The Imperfectionists by Tom Rachman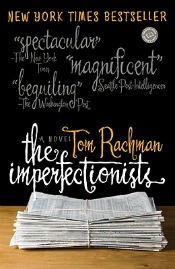 The Imperfectionists takes place at an English-language newspaper in Rome, which has been a source of international news for expats for 50 years. The book is a series of connected short stories about the tumultuous personal and professional lives of the journalists, editors, and publishers of the paper set against the monumental shifts from print to online in the newspaper industry.
I read this one for my book club and absolutely loved it. Of course I was predisposed — I have a thing for books by or about journalists, after all — but the book does a lot more than that. Each of the stories has both humor and sadness in it. As one person in my book club noted, each story has the best and the worst of what people can be in it, which makes the entire book move up and down very quickly. Many stories were funny, others cringe-inducing, and others quite sweet… I didn't want to put it down.
Rating:





The Center of Everything by Laura Moriarty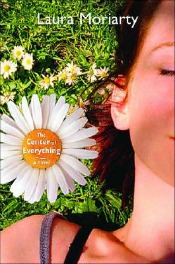 The Center of Everything is set, literally, at the center of everything — Kansas, which Evelyn Bucknow, the protagonist, has always seen as the very center of maps of the world. The book starts when Evelyn is a 4th grader living with her single and irresponsible mother. The book follows her from impressionable elementary school student through her high school graduation, exploring her beliefs, making friends, and watching them make tragic mistakes while she tries to make it out of her small town and on to college.
This is a book that I read while I was at the gym, so you know it had a few things going for it — clean, uncomplicated writing; an engaging main character; and a narrative that moved forward simply and without too much fuss. Those aren't bad things at all; in fact, they were most of the things I enjoyed about the book. Evelyn is a fantastic main character — smart for her age (but not too smart), and I loved reading about her as she tried different identities in the process of growing up. She did exactly the sort of questioning, exploring, and forgiving you want to see people in real life do. This book worked perfectly for me as a gym read, so thanks to Melissa for mentioning it.
Rating:





Scenes from an Impending Marriage by Adrian Tomine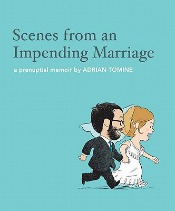 Scenes from an Impending Marriage is a slim, 56-page comic book is a collection of short strips showing the silly and serious process of getting married. I can't remember why I checked this one out from the library, but since it was so short I read it in a really short time. I loved the sense of humor Tomine and his now-wife showed through the process of preparing for their wedding — accepting and teasing about the absurd but coming together when it was important. Tomine originally drew the book as a wedding favor for their guests, and I think it would make a sweet shower gift for anyone going through this process.
Rating: