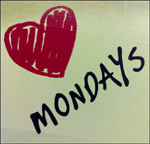 Monday Tally is a weekly link round-up of some of my favorite posts discovered over the week. If you have suggestions for Monday Tally, please e-mail sophisticated [dot] dorkiness [at] gmail [dot] com. Enjoy!
David Brooks' article about the challenges for recent college graduates talks about the challenges individualistic rhetoric for recent college graduates. It's an interesting piece, but my favorite quote is this one:
No one would design a system of extreme supervision to prepare people for a decade of extreme openness. But this is exactly what has emerged in modern America. College students are raised in an environment that demands one set of navigational skills, and they are then cast out into a different environment requiring a different set of skills, which they have to figure out on their own.
I really like the idea of making life improvements in small steps, so this list of ideas was pretty cool. Some that seem like they'd be good for me include:
Create a "100 Days to Conquer Clutter Calendar" by penciling in one group of items you plan to declutter every day, for the next 100 days.
Choose a book that requires effort and concentration and read a little of it every day, so that you read it from cover to cover in 100 days. (War and Peace, anyone?)
Set your alarm a minute earlier every day for the next 100 days. Then make sure that you get out of bed as soon as your alarm rings, open the windows to let in some sunlight, and do some light stretching. In 100 days you'll be waking up an hour and forty minutes earlier than you're waking up now.
Create a spending plan (also known as a budget). Track every cent that you spend for the next 100 days to make sure that you're sticking to your spending plan.
Track how you spend your time for 5 days. Use the information that you gather in order to create a time budget: the percentage of your time that you want to devote to each activity that you engage in on a regular basis.
For the next 100 days, get at least twenty minutes of daily exercise.
For the next 100 days, make it a daily ritual to mediate, breath, or visualize every day in order to calm your mind.
If you are a fan of audiobooks, be sure to stop by Jen's blog this week to check out Audiobook Week.  Each day she has a different discussion topic related to audiobooks, as well as a place to link your own audiobook reviews. There are a ton of great prizes too, so check it out!
For more of my favorite links from the week, check out my Tumblr, A Little Bit of Dorkiness.