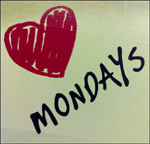 Monday Tally is a weekly link round-up of some of my favorite posts discovered over the week. If you have suggestions for Monday Tally, please e-mail sophisticated [dot] dorkiness [at] gmail [dot] com. Enjoy!
Deborah Blum, a former professor and amazing science writer, did an interview featuring five of her favorite science books. Her picks include:
I encourage you to go over and read the interview, which gives some great reasons for each of these books and thoughts on science writing as a nonfiction form.
I love a lot great discussion points about e-books in this article, but my favorite paragraph has to be this one:
It may be all about vanity, but books — how we arrange them, the ones we display in our public rooms, the ones we don't keep — say a lot about what we want the world to think about us. Probably more than any other object in our homes, books are our coats of arms, our ice breakers, our calling cards. Locked in the dungeon of your digital reader, nobody can hear them speak on your behalf.
I want to just pull out this quote every time anyone in my family makes a comment about the growing size of my bookshelves!
I love the way this piece by Jael McHenry — written partially in response to the controversy about YA literature that sprang up last week — gets at the dual nature of Twitter by exploring two trending hashtags (#sitcomnovels and #YASaves):
Twitter is the world writ small, and that means a lot of things. It means the good and the bad are both right there. It means sometimes we are silly, sometimes we are angry, sometimes we are shameful, sometimes we are inspiring, and in the end the only thing you can really be sure of is that we are we. We are us.

We're all in this together, and the hashtags, both silly and serious, show us how it's done.
For more of my favorite links from the week, check out my Tumblr, A Little Bit of Dorkiness.