"Off the Stacks" is a weekly-ish feature where I highlight a nonfiction book I'm curious about but will probably run out of hours in the day to actually read. I'm hoping that by highlighting titles this way, I can encourage other people to give the book a try, and, if it's great, consider nominating it later this year for the Indie Lit Awards. Consider these books stamped with the "Sophisticated Dorkiness Seal of Curious Approval."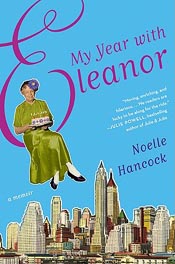 Title: My Year with Eleanor: A Memoir
Author: Noelle Hancock
Publisher: Ecco, an imprint of Harper Collins
Nonfiction Type: Memoir
Topics Covered: Losing your job, turning 30, doing things that scare you, Eleanor Roosevelt
What It's About: Twenty-nine and recently unemployed, Noelle Hancock felt lost and anxious. Then one day she saw a quote on a coffee shop blackboard that convinced her to make a change:
"Do one thing every day that scares you." — Eleanor Roosevelt
Inspired by good old Eleanor Roosevelt (and in the spirit of other trendy, "year in the life" memoirs), Hancock decided to spend the rest of the time before she turned 30 doing a "Year of Fear" — trying the things that scared her most.
Why I Want to Read It: I am a SUCKER for change your life for a year memoirs… it's like a disease, I swear. What appeals to me about this one is that it's about fear — trying to live a life less dictated by things that seem too intimidating to try. Plus, this one is by a woman close in age to me, which I find appealing. I'm pretty sure I'm going to burn out on these sorts of memoirs soon, but for now I can't seem to stay away.
Plus, I think that cover is all kinds of adorable.
Who Else Might Like It: Fans of "do something for a year" memoirs (like The Happiness Project or The Year of Living Biblically or Moonwalking with Einstein or Word Freak…), twentysomething females, readers who are scared of things.
Reviews: