I check out and buy a lot of books that end up getting returned or languishing on my shelves unread for reasons that have nothing to do with the book. I wanted to find a way to highlight those books, so decided to start a new weekly-ish feature called "Off the Stacks."
Each week in "Off the Stacks" I'll highlight one recent nonfiction that I want to read but, because I can only read so many books, may not get to try. I'm hoping that by highlighting titles this way, I can encourage other people to give the book a try, and, if it's great, consider nominating it later this year in the Indie Lit Awards.
I'm still working out the details, so expect the format to make some shifts in the next few months. Let me know what you think!
---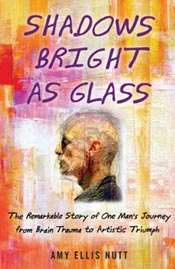 Title: Shadows Bright as Glass: The Remarkable Story of One Man's Journey from Brain Trauma to Artistic Triumph
Author: Amy Ellis Nutt
Publisher: Free Press, an imprint of Simon & Schuster
Topics Covered: Neuroscience, psychology, philosophy
What It's About: After a severe stroke,  chiropractor Jon Sarkin was transformed from a "quiet, sensible man" into "an artist with a ferocious need to create." In the book, journalist Amy Ellis Nutt explores the most recent research into neuroscience and explores questions of identity and loss — how do we really explain who we are?
Why I Want to Read It: I heard about this book after reading an interview the author did with NPR's Fresh Air and reading an excerpt. I'm curious about the way Ellis Nutt connects philosophy and neuroscience to explore identity — I've always loved books that combine hard science and social sciences together. Ellis Nutt is also a 2011 Pulitzer Prize-winning journalist, which gives me great confidence that the writing will be beautiful.
Who Else Might Like It: Fans of science nonfiction, readers curious about the brain, anyone who questions where their identity comes from
Reviews: New York Times (which isn't very enthused) | NJ.com (which is more excited) |
PHOTO CREDIT: GINNEROBOT VIA FLICKR