"Off the Stacks" is a weekly-ish feature where I highlight a nonfiction book I'm curious about but will probably run out of hours in the day to actually read. I'm hoping that by highlighting titles this way, I can encourage other people to give the book a try, and, if it's great, consider nominating it later this year for the Indie Lit Awards. Consider these books stamped with the "Sophisticated Dorkiness Seal of Curious Approval."
The Man in the Rockefeller Suit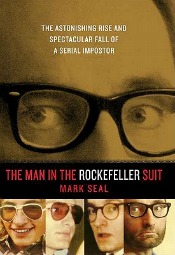 Full Title: The Man in the Rockefeller Suit: The Astonishing Rise and Spectacular Fall of a Serial Impostor
Author: Mark Seal
Publisher: Viking Adult
Nonfiction Type: Biography
Topics Covered: True crime, espionage, counterfeiting, the Rockefellers
What It's About: In a "stranger-than-fiction twist on the classic American success story" journalist Mark Seal profiles Christian Gerhartsreiter, a German immigrant who came to the United States and passed himself off as a member of the Rockefeller family for more than 30 years.
As he took on a series of fictional identities, "Clark Rockefeller" moved through social spheres across the country, eventually marrying a businesswoman with a Harvard MBA. Rockefeller received his comeuppance, however, after his divorce, when a kidnapping charge exposed his ludicrous past and connection to a disappearance in California in the 1980s.
Why I Want to Read It: The author, Mark Seal, is a contributing editor at Vanity Fair, a magazine that doesn't get recognized enough for publishing some fabulous narrative nonfiction pieces. He was also a 2010 National Magazine Award finalist for his profile of Clark Rockefeller, which I assume was the starting point for this book.
Who Else Might Like It: History buffs, fans of The Talented Mr. Ripley or Catch Me If You Can, those curious about lifestyles of the rich and famous
Reviews: Los Angeles Times |