Last Friday I attended the second-annual Book Blogger Convention at Javits, which was probably the highlight of my entire BEA experience. As a blogger, I can't think of anything better than getting to spend the day talking blogging with a group of people that actually get why doing this is so important.
Because I'm a journalist, I took compulsive – but mildly unreadable – notes during the day that I'm going to attempt to summarize for everyone who wasn't able to make it. This means that if I mis-wrote anything from the event, please let me know and I'll make corrections.
This year, the day was divided into sessions and you could choose what you wanted to attend. I like this format, even though I really wanted to attend everything. Take a look at other BBC wrap-ups to catch the sessions I missed. Also, my pictures also turn out terrible, so I'm going to send you over to Write Meg! to check out her photos. She had a beautiful camera and got great shots in a difficult shooting environment.
Opening Keynote: Sarah Wendell of Smart Bitches, Trashy Books
Sarah Wendell is a blogger and author who writes about romance novels at her blog, Smart Bitches, Trashy Books. Her opening keynote was a hoot, as well as being a speech I could relate to as a blogger – even though she's a big-name blogger, Wendell still knows how hard it is to write a "meh" review, how exciting it is to get that first book from a publisher, and how astonishing the idea that someone would actually burn ARCs is.
One of my favorite points from her speech was how having a blog is like having a child: Both require constant feeding, sometimes fights break out, and things can get loud. There can be hurt feelings, viruses, and sometimes even vomiting.
She also argued that there are three things that make up a blogger's currency: authenticity, consistency, and generosity. Without those things, as well as a person rubric for success, it's hard to be a successful blogger. However, she also noted that the real value of blogging is the impact and connections it can have in the real world. In the case of book bloggers, providing a way for readers to talk back to publishers and slowly change the way that books are made.
Practical Challenges of Blogging
The first session I attended was called "The Practical Challenges of Blogging," which was moderated by Men (Write Meg!), and included Jenn (Jenn's Bookshelves), Raych (Books I Done Read), Kristen (Fantasy Cafe), and Lenore (Presenting Lenore). The description of the panel said:
Not managing your time well? Do you want to get better about blog/life balance, multi-tasking, managing your TBR, and a host of other real world and life impacting topics? This panel will help you become a better blog manager.
I went into the panel hoping for some practical tips for finding ways to fit all the aspects of feeding a blog into a busy life. I though the panel spoke in generalities a little bit too much, but I did pick out some decent tips, including:
Blog in spans of time and pre-schedule posts so the blog doesn't need attention every day (Jenn).
Cut down your post number, even when you read more books, to save up posts for times when life is busy. Raych said she only blogs three times a week, which gives space for longer books without letting the blog languish.
Sometimes life is more important, so don't let your blog burn you out (Lenore).
Do something fun to mix up your reviews. Lenore talked about reviewing Maureen Johnson's Thirteen Little Blue Envelopes by writing a list of 13 of her European adventures. She suggested thinking about how you could tell a personal story with your reviews.
The tone of your reviews can help set your blog apart – "We're all just sitting in our sweatpants having a good yack" – Raych.
In regards to criticism – always think about how you are responsible for (yourself, readers, then authors)
Even a bad book could be good for someone, which means bad reviews can be redeeming (Lenore). However, Jenn said she doesn't post negative reviews because she quits books she doesn't like.
If your accepted pitch pile seems to large, compare the pitch to the book you most want to read next on your TBR pile. If you'd read the pitched book first, accept it, otherwise say "No" because it will not get read (Raych).
Don't spend too long on a review policy because it often doesn't get read, but do have one. If you ask, often bloggers will let you borrow language from their policies to form your own (Jenn).
I was also on Twitter during this session, so I picked up a few notes from the concurrent session, "Ask a Publisher or Publicist":
Negative reviews are ok.
Send your reviews – even negative reviews and reviews of backlist titles – to publicists so they know they are out there. You can also tweet reviews to publicists so they can share them (but look for the imprint that published the book so you know who to tweet at).
If a book is available for preorder, it's probably ok to post a review of it, but check if you have questions.
I really want to hear more from this session, so I'm hoping people who were there will post some detailed recaps!
Grey Areas of Book Blogging
This session was running concurrently with author speed dating, which I was just too small-talked out to really participate in. This session covered professionalism, ethics, netiquette, and managing expectations, and was moderated by Heather (Age 30+ A Lifetime of Books). Panelists included Bethanne (The Book Studio), Kathleen (A Bookish Broad), Candace (Beth Fish Reads), Pam (Mother Reader), and Amy (Amy Reads).
In general, I thought this panel was fascinating. There are so many ethical and personal questions that get raised in the course of book blogging, and I liked how candid the panelists were about some challenges they face and how they make the ethical decisions they consider as reviewers and bloggers. Some relevant points:
It's important to disclose relationships – even casual ones – as you review or talk about books. It doesn't need to be a big thing, but should be in your reviews as a way to be honest with readers.
Writing negative reviews is tricky, but it can be a good thing as a way to discuss books. But Amy pointed out that it's important to review the book, not the author. When you leave comments, discuss the review, not the blogger. Candace said that she will review books she did not finish – talking about what went wrong – but other bloggers don't do that.
Kathleen – who works as a publicist – said it can be hard to manage author expectations. There is still an occasional perception that if a blogger reviews a book it will be positive. Publicists are trying to teach authors about the proper relationship, but sometimes people act impulsively.
The idea of "professionalism" came up pretty regularly. I liked what Pam said about it – professionalism is a state of mind, a way of handling yourself online, rather than the idea of being paid or blogging for an "official" organization.
The panelists seemed to agree it's important to always take a breath before responding to drama, remember there's a person on the other side of a comment, and to be kind to others.
One thing I loved hearing is that it's ok – even expected – to not respond to every single book pitch. It's not rude to just delete things that are off, even though some bloggers (*cough Amy cough*) do respond to all of them.
Also, the phrase, "I'll accept this book on consideration for review" takes away some of the pressure to review every book you receive from a pitch – it's ok to not review everything. Publishers don't expect that, so it's ok to not expect it of yourself.
I got to ask a question in this session, which was pretty exciting! Many of the panelists used the word "objectivity" when talking about reviews, so I asked each of them to talk about what they meant. Here are their responses:
Pam said she doesn't believe in the idea of objectivity – all reviews are subjective.
Amy said it is related to sharing what she brought to the book and what she thought about it.
Candace said she is not very personal in her reviews, often pulling back – because of her training as an editor – to talk about it. She writes more about construction and style rather than how it made her feel. It's important not to let relationships impact thoughts on a book.
Bethanne said objectivity means meeting each book where it is – did the author succeed in writing a book that meets the expectations of the audience or fulfills the purpose of the book? Objectivity means taking books on their own merits.
Heather said she's the opposite of Candace and writes all about how books make her feel, and that's what she pulls into the review, which is often why people follow her blog. Your voice is what makes your blog.
I asked the question because I think objectivity is misunderstood. Journalists don't really get it, bloggers often don't like it, and readers have misplaced expectations about the idea. This could be a post in and of itself, but I'd argue that disclosure is a better ethic when thinking about writing online than objectivity. That said, I think I agree with many of the points the panelists made.
My other favorite thing to hear in the panel was something Pam said – blogging and publishing seemed to have reach an equlibrium. It's not less about bloggers saying, "What can we do for you?" and more of a give and take between the two groups. Bloggers are starting to be treated like "regular" media, which means we don't need to feel obligations to all books and an let ourselves off the hook a bit more. Yay!
Blogging for a Niche Market
One of the decisions I made as I started working full time (rather than as a student), was to not spend as much time futzing around with blogging technology much, so choosing between the final two panels — "Blogging for a Niche Market" or "Technology for Blogging" was a pretty easy one. The panel for niche blogging was huge — 11 different bloggers who spoke on issues of audience, tone, and balance when blogging on a particular genre of books. After a relatively short panel discussion, we broke out into small groups for some more specific workshopping and discussion time.
I went and sat with the nonfiction, classics, and historical fiction bloggers, and had a great discussion. I thought the three panelists — Rebecca (Rebecca Reads), Jill (Rhapsody in Books), and Amy (Passages to the Past) — did a nice job organizing a discussion of the genres, which have more in common than I might have initially thought.
I specifically wanted to ask about how niche bloggers think about being an advocate for their genre, and got some good ideas:
Looking into different communities and see how your niche might fit
Working with existing memes while specifically highlighting your genre
Do guest posts on other blogs that relate to your genre
Comment all the time, which is just a general good practice
Consider starting/joining a monthly carnival celebrating your genre
I have big-ish ideas in the works with some other cool bloggers for doing more advocacy for nonfiction, so this panel really helped give me some ideas. I need a new project, so I hope we'll be talking about our new thing soon.
The discussion sort of petered out a bit early, and since there was no closing keynote at the convention, I met up with some bloggers I had dinner plans with and we headed out after that. My dinner companions were Colleen (Books in the City), Ash (English Major's Junk Food), and Florinda (The 3R's Blog), and Melissa (The Betty and Boo Chronicles) and Teresa (Shelf Love).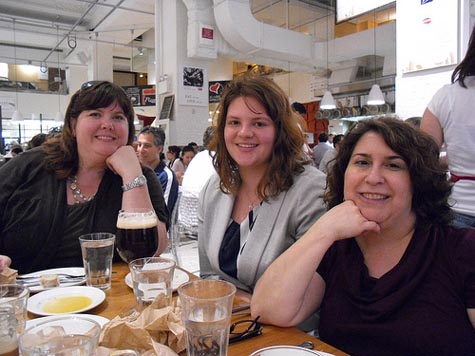 And that's the end of my BEA/BBC recaps! I had a fantastic time on my trip, even if a week later I'm still tired and trying to catch up. It was totally worth it though — there's nothing quite like meeting my favorite bloggers in person and finding out they're just as awesome in person as they are online. For those I didn't get to meet, I hope we'll run into each other next year!
A big thanks to the three organizers — Trish (Hey Lady! Whatcha Readin'?), Michelle (Galleysmith), and Rebecca (The Book Lady's Blog). Nice job, ladies!