Off the Stacks is a weekly-ish feature where I highlight a nonfiction book I'm curious about but will probably run out of hours in the day to actually read. I'm hoping that by highlighting titles this way, I can encourage other people to give the book a try, and, if it's great, consider nominating it later this year for the Indie Lit Awards. Consider these books stamped with the "Sophisticated Dorkiness Seal of Curious Approval."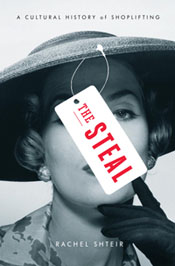 Title: The Steal: A Cultural History of Shoplifting
Author: Rachel Shteir
Publisher: Penguin Press
Nonfiction Type: History, cultural studies
Topics Covered: The law, shoplifting, petty crime, Winona Ryder, psychology

What It's About: Shoplifting, says Shtier (via reviewer Rachel Syme), is one of the many "activities we all think about but never discuss," exactly the kind of taboo subject I like to read about in nonfiction. The statistics about shoplifting shared in Syme's review of The Steal are pretty startling:
Retail losses due to shoplifting have risen 8.8 percent since the start of the Great Recession.
American families pay the highest "crime tax" in the world (the money each family "loses to theft-related price inflation").
Shoplifting a $5 heirloom tomato from Whole Foods means the store needs to sell $166 to deal with the loss.
Why I Want to Read It: I love nonfiction that specifically addresses the kinds of questions we want to ask but can't find the answers too, and stealing fits well into that category. I also enjoy books that combine psychology and history to explore current cultural trends and issues, which it sounds like this book might do.
Who Else Might Like It: Psychology aficionados, aspiring criminals, true crime readers, fans of celebrity scandals
Reviews: NPR | Los Angeles Times | New York Times |
A Bonus Book
A book coming out in paperback this week also grabbed my attention — Brilliant: The Evolution of Artificial Light by Jane Brox. Brox is the author of a memoir I really enjoyed about returning to her family's farm to help her aging parents. I loved her prose in that book, and since I'm currently writing an article about how lightbulbs work for my day job, this book caught my fancy despite how idiosyncratic the topic seems.